FSU Football Player Makes Sure A Boy With Autism Doesn't Eat Lunch Alone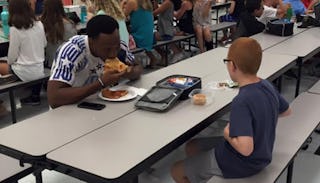 Image via Facebook
Viral photo shows FSU wide receiver Travis Rudolph eating lunch with a boy who has autism
A college football player sat down to have lunch with a boy who has autism and a photo of them eating together is going viral. The child's mom shared it on Facebook wanting to acknowledge how much the athlete's small act of kindness meant to her.
Leah Paske, like most parents, has concerns about her son Bo and the way he's treated by his junior high peers. Bo's autism adds extra challenges in the already-difficult social terrain of middle school, so Paske worries about things like whether he eats lunch by himself every day. According to her now-viral Facebook post, there was a day this week where she didn't have to panic that her son was eating alone.
In her post that's now been shared over 8,500 times, she writes, "Several times lately I have tried to remember my time in middle school, did I like all my teachers, do I even remember them? Did I have many friends? Did I sit with anyone at lunch? Just how mean were kids really?" Paske recounts a time she was teased by a boy at school and how it affected her. She then wonders what middle school will be like for her son.
"Sometimes I'm grateful for his autism. That may sound like a terrible thing to say, but in some ways I think, I hope, it shields him. He doesn't seem to notice when people stare at him when he flaps his hands. He doesn't seem to notice that he doesn't get invited to birthday parties anymore. And he doesn't seem to mind if he eats lunch alone."
The mom explains lunch time is something she always talks about with Bo. "It's one of my daily questions for him. Was there a time today you felt sad? Who did you eat lunch with today? Sometimes the answer is a classmate, but most days it's nobody. Those are the days I feel sad for him, but he doesn't seem to mind."
Although her son doesn't seem bothered, it upsets her, like it would any parent. That's why what Florida State wide receiver Travis Rudolph did for Bo this past Tuesday was so incredibly meaningful.
Paske recounts, "A friend of mine sent this beautiful picture to me today and when I saw it with the caption "Travis Rudolph is eating lunch with your son" I replied "who is that?" He said "FSU football player", then I had tears streaming down my face."
As it turned out, Rudolph was one of several FSU football players visiting Bo's school that day. He told The Orlando Sentinel about his choice to sit with the child and it sounds like it was a no-brainer for him. "I asked if I could sit next to him, and he said 'sure, why not?' I just felt like we had a great conversation." While the boy ate his lunch, Rudolph sat across from him eating pizza and chatting him up. "He started off and was so open. He told me his name was Bo, and how much he loves Florida State, and he went from there."
Calling the child a warm person with "a nice smile," Rudolph garnered praise not only from Peske, but from his coach, Jimbo Fisher. Of his player, Fisher says, "You can affect people in a lot of ways. That's the way you affect people. Make somebody's day by being yourself, and going and spreading the word, and understanding the impact you have as an athlete and role model to people in the community."
Rudolph certainly made an impact on the Peske family and showed what it means to be a role model for so many kids who might question whether they should sit with a child like Bo and help them feel more included. Peske's reaction shows how much it means when someone performs a small act of kindness. That's really not small at all.
"I'm not sure what exactly made this incredibly kind man share a lunch table with my son, but I'm happy to say that it will not soon be forgotten. This is one day I didn't have to worry if my sweet boy ate lunch alone, because he sat across from someone who is a hero in many eyes."
There's no doubt about that.