Olympic Swimmer Fu Yuanhui Complaining About Her Period Is All Of Us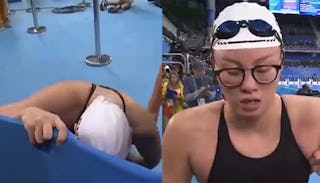 Image via Miaopai.
Fu Yuanhui was squatting in pain after swimming on Saturday
Olympic swimmer Fu Yuanhui has won the hearts of many with her expressive reactions in Rio, but her complaints about her period will likely make her a household name. Because in that moment she was every woman who has ever pushed through the river of blood, cramps, bloating, and exhaustion that come with our monthly visitor known as "the curse."
She also shattered the common myth that a period is something of which a woman shall never speak.
The Chinese superstar was waiting with her teammates for an interview with reporters after competing in the 4×100-meter relay over the weekend. When the camera panned to the 20-year-old, she was crumpled over in pain. "My period came last night and I'm really tired right now," she explained to the reporter who asked if her stomach was hurting.
Periods suck. They suck even when you work from home in your pajamas at a desk all day and can eat an unlimited amount of chocolate. They especially suck when you've got to leave the house for any reason. And now that we're adults we try to avoid as much physical activity when Aunt Flo is town as possible. Competing in a worldwide athletic competition on the first day of our period is damn near unimaginable.
But like the true badass she is, the young competitor didn't want to blame her bad score on what is usually referred to publicly as "lady problems." Yuanhui and her teammates narrowly missed winning a medal and finished in fourth place, according to Shanghaiist. They finished the relay in 3 minutes 55.18 seconds, just 0.17 seconds slower than Denmark. Of her performance the swimmer said, "But this isn't an excuse, I still did not swim as well as I should have." Class. Act.
We feel ya, girl. Every time our period ruins a pair of leggings and leaves us so brain-dead we can't respond to an urgent email we still feel like there was more we could've done. Yuanhui's become famous during the Rio games for keeping it real and she did so again when she talked about her period so openly.
Sure she's known more for her signature goofy faces and upbeat attitude, but the lady just competed in yet another race but this time she was dealing with all the nonsense that periods bring. Her post-race realness was bound to be less positive and more "this blows." Is there any other reaction to have when your time of the month coincides with the biggest competition of your life? We don't think so.
And the fact that Yuanhui was so straightforward with her explanation is huge for women in sports. Very rarely do female athletes talk about the unique challenges they face like riding the crimson wave. Her period may have tuckered Yuanhui out, but it didn't stop her from charming us with her candid nature one more time.
This article was originally published on