'Full House' and 6 Other Shows From Your Past That Are Coming Back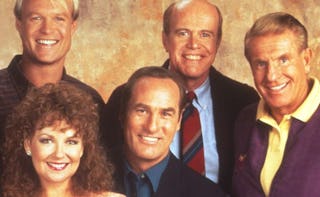 My 11-year-old son recently discovered The X-Files on Netflix, and thought I was joking when I told him it was coming back. But it's true: there are going to be six brand-new episodes. David Duchovny, Gillian Anderson, and show creator Chris Carter are all aboard, with the recent and exciting addition of Mitch Pileggi as Mulder and Scully's boss, Walter Skinner.
No definitive word yet on the Cigarette Smoking Man, or the Lone Gunmen, but that show has always thrived on a little mystery.
Speaking of mysteries, where on earth did all these Full House fans come from? They're celebrating, now that Netflix has announced it'll be bringing the show back next year. It's been a big buzzy rumor for a while, but they just made it official: the title will be Fuller House, and star John Stamos, who played Uncle Jesse on the original, will produce and occasionally guest star. Fans will get an update on the Tanner family when widowed, pregnant DJ (Candace Cameron Bure) will enlist her sister Stephanie (Jodie Sweetin) to help raise her two sons and new baby. (I wonder if they'll talk about Sweetin's days at Pants-Off Dance-Off.) Best friend Kimmy (Andrea Barber) will also be around to help out, and producers are hopeful that they'll be able to include visits from Bob Saget (Danny), Dave Coulier (Joey), and the Olsen twins. I guess they only need one Olsen twin, though, since they shared a role.
And another '80s/'90s sitcom is heading back to TV screens: Coach. No word on the cast in general, which included Shelley Fabares, Bill Fagerbakke, and Jerry Van Dyke, but star Craig T. Nelson is aboard, along with original show creator Barry Kemp. The story will pick up 18 years later, when Nelson's Hayden Fox has retired from coaching but returns to the field to help his grown son, who's become the head coach at an Ivy League school in Pennsylvania.
Remember The Muppet Show? It was a big show-within-a-show hit back in the late '70s. In addition to its regular cast members Kermit the Frog, Miss Piggy, Fozzie Bear, Gonzo the Great, and balcony wisecrackers Statler and Waldorf, it was also a mecca for celebrities, with guest stars like Julie Andrews, ballet superstar Rudolf Nureyev, Gilda Radner, Debbie Harry, Carol Burnett, Elton John, Diana Ross, Paul Simon, Steve Martin, Alice Cooper, John Cleese, and Liza Minnelli.
With help from The Big Bang Theory's co-creator, Bill Prady, ABC is planning a new series. The concept will include Kermit, Fozzie, Gonzo, Animal and others trying to bring the show back, despite pushback from Miss Piggy, who's still smarting over her rocky relationship with Kermit. Muppets never go out of style.
For the Heroes reboot, show creator Tim Kring is back in charge, but with the title Heroes Reborn, the option to work with brand new stories and characters leaves the question of returning stars wide open.
And then there's Twin Peaks, whose status remains up in the air given the recent departure of David Lynch. He and co-creator Mark Frost already delivered all of the scripts to Showtime, and Kyle MacLachan is on board, but after a dispute about the show budget, Lynch announced he was severing ties with the show. Fans have taken to social media to beg Showtime to continue negotiations, which Showtime insists it's been doing all along, and the actors from the show have appeared in this video expressing what Twin Peaks would be like without Lynch in the director's chair.
(The original series actually had multiple directors, including House of Cards' James Foley, Caleb Deschanel, and even Diane Keaton, but Lynch was at the helm of some of its most pivotal episodes.)
Finally, this rabid Parenthood fan just read an interview with show creator Jason Katims saying that he'd love to do a "limited series revival" of the show. Yes please! I would do anything for another few hours with the Braverman family. I care deeply about all of those characters, fictional as they are. I can read about Dax Shepard going to couples therapy with wife Kristen Bell, but to me, he's married to Joy Bryant, and that's that.
Here's an idea, though: can we bring back Freaks & Geeks? The show was utterly brilliant and only lasted one season. Its stars are all still around and working, as is creator Judd Apatow, and I'd love to know what all the characters are up to.
This article was originally published on