Kristen Stewart IS Princess Diana In Full Length Trailer For 'Spencer'
by Madison Vanderberg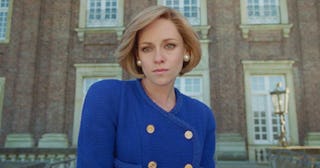 Neon/Youtube
Kristen Stewart already has Oscar buzz for her role as Princess Diana in the new film, Spencer
After months of anticipation, posters, teasers, and film festival buzz — it's finally here, the full trailer for Spencer, the Princess Diana biopic starring Kristen Stewart, in a role many are saying is going to nab her an Oscar. The film takes place over the 1991 Christmas holiday, focusing on Diana's thoughts, feelings, and fears over those three fateful days when she and her husband Prince Charles contemplate the end of their marriage and Diana finally realized she needed to leave him.
"The marriage of Princess Diana and Prince Charles has long since grown cold," an official synopsis of the film reads. "Though rumors of affairs and a divorce abound, peace is ordained for the Christmas festivities at the Queen's Sandringham Estate. There's eating and drinking, shooting and hunting. Diana knows the game. But this year, things will be profoundly different. Spencer is an imagining of what might have happened during those few fateful days."
Stewart nails Diana's accent and looks just like her. But her performance is moving and even haunting, especially when Stewart's Diana turns to a friend and says, "Will they kill me? Do you think?" Shortly after this difficult Christmas, the royal couple separated in 1992. The marriage finally ended in divorce in 1996, a year before Diana's tragic death.
Kristen Stewart's performance is already getting Oscar buzz.
Though Spencer won't hit theaters until November 5, 2021, it premiered at the Venice Film Festival and already has a 91% rating on Rotten Tomatoes. And with all due respect to Emma Corrin, who plays a very young Princess Diana in Netflix's look at royal life on The Crown, everyone is buzzing about Stewart with claims she's going to be nominated for an Oscar for the role.
IndieWire's awards expert Anne Thompson wrote that the Best Actress Oscar is "[Kristen Stewart's] to lose," adding, "Stewart pulls us into the young mother's emotional turmoil as she seeks comfort from her two sons."
"Spencer is an act of psychological horror, a kind of ghost story, and a survivalist picture carried by an uncannily immersive Kristen Stewart, in the best performance of her career," said Robert Daniels of Polygon.
While Alison Willmore of Vulture writes that "the film is Stewart's to carry, and she does it by going less minimalist than is her habit and by allowing an awareness of the absurdity of Diana's situation to seep in, even as she plays the woman's suffering entirely straight."
As for Stewart, she knows the role comes with a ton of responsibility and based on the trailer alone, it seems like she delivered.
"Spencer is a dive inside an emotional imagining of who Diana was at a pivotal turning point in her life," Stewart said in a statement, per Entertainment Weekly. "It is a physical assertion of the sum of her parts, which starts with her given name; Spencer. It is a harrowing effort for her to return to herself, as Diana strives to hold onto what the name Spencer means to her."
From Twilight to Oscar buzz, good for you, Kristen Stewart.