If You Love Loud, Fun Leggings, You Don't Need To Wait For Your 'Unicorn'
by Samantha Angoletta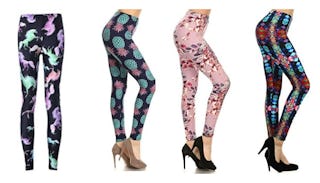 Amazon
Because Amazon has saved the day again.
So many prints. Most under $15. Available in various size ranges.
I realize this trend isn't for everyone, and that some folks have very strong opinions about printed and patterned leggings. At the end of the day though, people are going to wear whatever the hell they want to wear. As it should be.
If you don't like what someone else is putting on their body, avert your eyes.
And if you do enjoy this trend, whether it is on a small or "hoarder status" scale, I think you're covered here:
and…plain black! Also known as The Real MVP:
I will admit that I've dipped my toe in the water here, and I just couldn't pass up pineapple leggings. Considering everything else I own seems to stay in the "Wednesday Addams" color pallete, I don't think it will hurt me to jazz it up a bit.
This post contains affiliate links, which means we receive a small portion of the sale if you make a purchase using these links.
This article was originally published on