15 Fun And Funky Socks That Will Instantly Boost Your Mood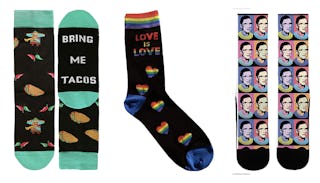 For the person who has everything, or a grab bag/white elephant gift exchange, or when it's your boss's birthday and you really have no idea what to get her other than a day off, fun and funky socks are here to save the day. They make a unique, thoughtful gift that says, "I know you well enough to buy you socks with your favorite food on them" and they don't break the bank.
Here's a wide array of choices, from socks for teachers to socks with sloths to socks to honor our gal-pal RBG.
Socks. Who knew they could be so much fun?
For the artsy person in your life, these socks say, "I know you can't afford to fly to Paris and see the Mona Lisa, so here she is on some socks."
Whether it's coffee, wine, tacos, or donuts, there is a good variety of choices with this sock line that will hopefully prompt your loved ones to bring you something yummy.
These teeth socks are the perfect gift for the dentist in your life (for anyone else, teeth socks are creepy.) Or here's a fun option for a doctor or nurse who thinks needles and stethoscopes are cool.
Here's a fun choice that will be sure to make any educator laugh, and if anyone deserves some good humor, it's teachers.
If you love sloths (who doesn't?) because they're your spirit animal, these adorable socks from Foozys will make your day. Also check out these socks with llamas, hedgehogs, and pretty much any other animal in the world.
If your holidays are lit with bright lights, or copious amounts of wine, or both, these "Let's Get Lit" socks are the perfect choice. Or for a more subdued, PG choice, this 12-pack is super cute, festive, and would make a great group gift.
Give the gift of sushi — in sock form — with this hilarious and unique set. Or this choice for pizza lovers is equally as fun. These socks might make you hungry though, FYI.
That's right, folks. Celebrate your love for all things Bob Ross with these fun socks. And maybe find yourself inspired to make some "happy little accidents" yourself.
Badass socks for badass women. Boom.
Socks that celebrate someone's love for space and also tell people to leave them the hell alone are the best socks, don't you think?
Whether you're the gamer or you live with one, chances are you know someone who'd love these gamer socks. (BTW, Mom always gets to disturb you, so just remember that.)
Ruth Bader Ginsburg socks?! We'll take them all, thanks.
And don't stop with RBG! Channel your inner Rosie and celebrate girl power with these Rosie the Riveter socks as well. Because who run the world?
Love is love. We know it, and you know it. So show your support of the LGBTQ community with socks that say just that.
Finally, here's a great choice for eggplant lovers. Or eggplant emoji lovers. Or for those who really crave some eggplant and haven't had eggplant in a while. No judgment here. Enjoy these socks!
Socks really are the ultimate gift to celebrate a love for donuts or a love for Ruth Bader Ginsburg. You can't go wrong with these choices, so happy shopping!
We may earn fees from purchases made via links on this page and affiliated sites. All opinions are our own.
This article was originally published on