FEMA To Reimburse Funeral Expenses For Some Families Of COVID Victims
by Julie Scagell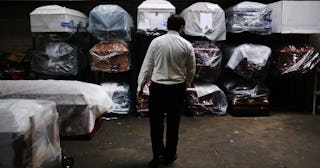 Spencer Platt/Getty
The funding has already been approved and details are being worked out now
New York Senator Chuck Schumer and Rep. Alexandria Ocasio-Cortez announced today that the Federal Emergency Management Administration (FEMA) will start to reimburse low-income families if their loved one died from coronavirus to help cover funeral and burial costs.
The New York Democrats said families can begin applying for reimbursement of up to $7,000 for funeral expenses, with $260 million of the $2 billion in funds to be allocated to New Yorkers, much of it intended for low-income residents in neighborhoods at the epicenter of the pandemic, including Queens and Long Island. The measure was part of the December COVID-19 relief bill. Eligibility for the funds will be retroactive through the beginning of the pandemic, January 20, 2020, through December 31, 2020, and will help those who have gone into debt trying to pay for a funeral and burial.
Schumer also noted they are working to keep the program in place for the rest of the pandemic.
This funding has been approved, and FEMA is setting up the program to reimburse families impacted, the lawmakers said. "Many of these families because of Covid don't have money for a proper funeral and a proper burial. And that is just awful and inhumane," Schumer said.
While it's not clear exactly who will be eligible to receive the funds, Schumer explained the broad strokes at a press conference this week. "If you are a family who couldn't afford or had to just stretch, went without rent or went without food or anything else so you might give your loved one a decent funeral and burial, you can get reimbursed for up to $7,000 from FEMA."
As the details are still being finalized, Schumer and Ocasio-Cortez said that FEMA is creating a hotline to help provide information to people seeking reimbursement and recommended family members get the necessary paperwork together that show funeral costs, death certificate, and any other outlay of cash so they are ready to be turned in for review.
"FEMA is working quickly to finalize an implementation plan and interim policy to support the delivery of funeral assistance to eligible citizens," a FEMA spokesperson told CNET in an email. "To help administer the program, FEMA is hiring contract support through the federal acquisitions process to help administer the program. The contract is open for proposals until Feb. 8. After a contract is awarded, FEMA will make an announcement later this year when applications are being accepted."
Ocasio-Cortez noted that the cost of a funeral and burial can devastate low-income families. "While this pandemic was hitting all of us, and while we were all in the same storm, we were not in the same boat," she said. "And some of us were in really choppy waters."