Mom's Hilarious Cartoons Nail What It's Like To Be A New Parent
by Megan Zander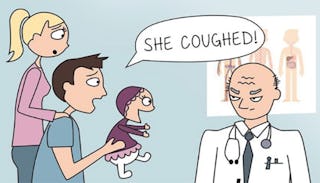 Mom's funny parenting cartoons perfectly sum up life with a baby
You may have heard of Line Severinson and her brutally honest (and laugh out loud funny) cartoons about the less than awesome parts of being pregnant. The illustrator and mother of two is known for drawing pregnancy as it really is and she posts her creations on Instagram. But she's got plenty of great material for what happens after the baby is actually born, too. After all, motherhood isn't just sweet snuggles and dressing your bundle of joy in tiny socks. Her cartoons about parenting are just as funny as her pregnancy ones, and just a accurate.
From furbaby to fighting for attention, just like that.
Forget headphones for the baby when they're napping in public. Headphones for yourself during a screamstorm is some genius level parenting.
Been there.
This actually happened to me once when I went to pee, and for a moment I was sure a kidnapper broke in silently, stole my baby and locked the door behind them in the 30 seconds that I was out of the room.
You tell yourself it's just sweat but deep down you know better.
All the nervous moms say, "Me."
This is why we can't have nice things.
Goodbye Ariana Grande ponytail, hello mom cut.
Severinsen's talent is wildly impressive, and not just because she finds time to draw with two kids underfoot. You can read all the books, take all the classes and watch your niece once a week during your pregnancy, but the bottom line is that nothing can really prepare you for the realities of being a parent. It's so easy to feel overwhelmed, frustrated or that you're doing it wrong as a new mom, which is why Severinsen's cartoons are so important. Not only do they let us know that we're not alone, but they help us laugh at ourselves and realize that we're going to get through this parenting thing, even the hard parts.
Severinsen's illustrations are set to be released in a book titled I'm So Pregnant later this year, making it the perfect baby shower gift for the friend you want to warn, but don't want to totally scare about what lies ahead.
This article was originally published on