Dad Receives Hilariously Awkward Letter From Son's School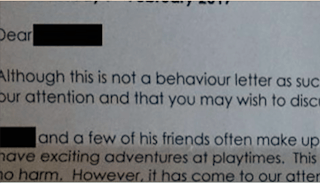 Image via Twitter
At least he has a sense of humor about it
Opening your kid's take-home folder and seeing a letter from the school can sometimes be cause for a low-key panic. Sure, it's probably just be a note detailing next month's PTA carnival, but it could also be a warning about your kid's shitty behavior.
In this case, it was simply hilarious, if slightly embarrassing.
Paul Hunt, of Somerset, England, was on the receiving end of a very funny letter sent home from school with his partner's ten-year-old son. Judging by the incident described in the letter, the child has a big imagination. So big, in fact, that a character name from his latest pretend game at recess is raising eyebrows among teachers and administrators. Check out the letter and prepare to die laughing. Or, of second-hand embarrassment.
Hunt has his sense of humor intact, having tweeted a photo of the letter with the caption, "This letter, that was sent home from school today, is the funniest thing I've ever read."
The letter says, "Although this is not a behaviour letter as such, I am writing to inform you of something that has come to our attention and that you may wish to discuss further with [name of boy hidden]. Him and a few of his friends often make up characters, give them amusing names and then they have exciting adventures at playtimes. This in itself is an imaginative and creative pastime and causes no harm."
We're sensing a "but" coming.
"However, it has come to our attention that one of the characters has the name 'Wildo the Dildo' and this has, I am sure you can understand, raised some concerns with us."
Oh, dear God. Poor Paul Hunt. Just going about his life as though his partner's son isn't calling himself "Wildo the Dildo" on the playground. Now, he knows. And he can't un-know.
The letter wraps up saying, "On further discussion, none of the children said they knew what it meant, but were aware that it was an inappropriate word to be using. One of the children said they picked up the word on the playground, so we will be following this up further and dealing with accordingly."
Ugh.
Hunt is having a fantastic reaction to the letter, but it would be totally understandable if he were mortified. Kids say the darnedest things, and sometimes, those things are unbelievably humiliating and reflect poorly on us as parents. But as his chill about this little dildo debacle proves, maybe having a laugh is preferable to having a panic attack.
His Twitter account shows some of the fallout, and through it all, he's maintaining his sense of humor.
Hunt tells the Mirror he's actually surprised the school bothered sending a letter to notify him and his partner about good ol' Wildo. Their son had already told them all about it anyway, including the fact that he was embarrassed and had no idea what the word meant.
"We were surprised that the teachers had thought it necessary to write the letter at all, let alone be explicit about what the word was. So yes we certainly did have a good laugh about it."
And thanks to the internet, so did we.
This article was originally published on