The Funny Parents Of Twitter On The Joys Of Travel With Kids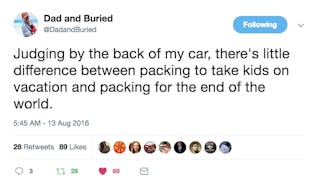 School's out and summer's in full swing. That means millions of parents are embarking on the time-honored tradition of taking their kids on vacation. From the east coast beaches to the deserts of Arizona, families everywhere are just having a total blast with their grateful and well-behaved children in tow.
Or not.
Of course, there's some fun to be had. But there's also fights over souvenirs in front of the tacky boardwalk gift shop, battles at restaurants over who's refusing to eat their kid's menu popcorn shrimp and meltdowns over leaving the hotel pool for the day. Luckily, the funny parents of Twitter are totally there with us, threatening to reduce tablet time, tossing snacks in the backseat for a few moments of precious silence, and considering jumping out of the car to tuck and roll the fuck away from their good, old-fashioned, family vacation.
1. Goodbye excitement and spontaneity.
Who even needs a couple's massage under a beach cabana with a Caribbean breeze caressing your skin? You get to go hunt for seashells and have burgers and stale fries at Margaritaville at 4:30 pm.
2. Accurate.
It's only official after someone's iPad almost ends up on the side of I-95.
3. Your definition of vacation changes.
Going pee at Barnes & Noble without a small person in your lap is basically luxury at this point. Sadly.
4. It's the little things.
Go ahead and reserve a pricey oceanside rental complete with carefully planned day trips and nice dinners out. Your kid will remember ocean peeing and that Slim Jim you let her have at the gas station on the drive home because you were all out of fucks to give.
5. Taking the show on the road.
Let's be honest; unless you bring along an au pair, a vacation with kids is absolutely in no way relaxing. Come at me.
6. Dad level: expert.
Did you look in that one closet in the weird attic bedroom literally no one ever slept in? Better go check.
7. Yes please.
There has to be a travel agent who can make this happen without causing too much trouble. We'll pay a premium. Please?
8. Literally everything you own.
If you can actually see a little bit out your back windshield you probably forgot a few things.
9. Yup.
The pool and the lake are your BFF until Labor Day. No guilt.
10. PREACH.
Can we just put horse blinders on them while heading down the boardwalk?
11. Ugh.
You can declare it vacation once he's riffled through every pair of cargo shorts he brought only to discover he left it in the center console of the rental van. Motherfucker indeed.
12. Tranquil AF.
Ahhh can you hear the waves crashing against the sand? Nope, that's just your kids whining.
13. Learn from the mistakes of others.
I'll never forget the clackety clack of their creepy little claws the entire 15-hour drive home. #NeverAgain
14. Oh yes.
Now's your chance to go Full Mom.
Happy travels, parents!
This article was originally published on