The Funny Parents Of Twitter On The Santa Lie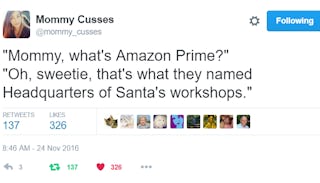 All year long, us parents emphasize the importance of telling the truth to our kids. We don't want to raise little liars, and we teach them that it's always best to be honest. And then comes December where we turn that whole notion on its head with the biggest lie of all: Santa Claus.
Not that there's anything wrong with lying to kids about the existence of Santa; the myth of the big guy in the red suit is a right of childhood in many families and considered totally acceptable to perpetuate as long as your kids believe. Along with that right to lie comes some pretty funny situations, as the funny parents of Twitter demonstrate with these hilarious tweets about the Santa fib.
1. Santa's silly like that.
Oh shit, Santa is a dope, sweetheart. Better give Daddy those rejected candies. Make them go away so you never have to see them again.
2. Gotta keep the magic alive.
Talk about commitment to a role. But hey, whatever works.
3. Drunk with power.
Kids will believe anything. While you're at it, tell them you're Beyonce. They don't know.
4. A lie for all seasons.
Why only have this fail-safe one month out of the year? Use Santa in the dead of summer. There are literally no rules stopping you.
5. He's serious competition.
Amazon is powerful but if the Santa we tell our kids about were real, he would pose a major threat.
6. Speaking of Amazon..
You've gotta come up with some explanation for the December deluge of Prime boxes. Well, if you're me, they're kind of a year-round thing so there won't be any questions.
7. Santa is a major douche.
He's the only one who could get away with such an unforgivable act while still retaining your child's affection. Feel free to use for all other snacks you want to consume without taking the fall.
8. Sick burn.
We see what you did there. And we love it.
9. We're listening.
Not that there's anything wrong with cookies and milk, but pad Thai and pinot grigio? Shut up and take my money.
10. He needs a modern update.
Santa is taking no prisoners, kids. Better shape up.
This article was originally published on