Popular '90s Furbies Could Be Worth A Good Chunk Of Change Now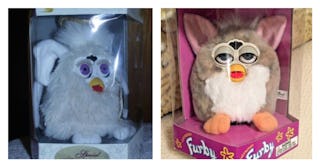 Looks like it's time to clean out the attic again — this time for Furbies
Remember Furby? That weird looking hamster-meets-owl electronic robotic toy form the nineties that all of us just had to own? Well, apparently the furry little toy is still a hot commodity in the collector's world. While your average Furby isn't going to make you rich, some rare special edition models selling for thousands — and we mean thousands — of dollars. For realz.
One "Special Millennium Edition Furby" from 1999 was a particularly hot commodity on Ebay. 26 bids were placed on the item, which was offered in its original packaging, unopened. It ended up selling for a whopping $4,550, plus $8.35 shipping.
A "Special Furby Angel" in the box sold for a cool $800, while an opened and played with "Special Furby Angel" is currently for sale for $249.
Do you have a vibrantly hued "Kids Cuisine" Furby doll? If so, you could make a killing. One, in a sealed package, recently went for over $500.
This Mouse Series Furby isn't just adorable, it is insanely valuable. Someone is selling theirs for a staggering $969.95.
So is that Furby collecting dust in your basement actually worth money? Before you get too excited, keep in mind that not every Furby doll is worth good money. "Furbys are not ludicrously valuable," toy expert Mark Bellomo told TODAY in an email. "The common Furby that was released in hundreds of thousands of units to thousands of retailers are not in demand on the secondary market because …every kid owned one."
Also, how much your Furby is worth totally depends on its condition and whether you took it out of the box. "Any Furby that's in its original, unopened packaging from the original run or is a limited release or from a rare assortment is worth money," Bellomo continued.
If you aren't sure just how rare your Furby is, do a little research. "Look that piece up online immediately. These are in high demand and will sell for decent money." You can start on eBay, by scrolling the 'sold' listings. That way you can compare your model to similar models and determine a realistic selling price. "Look for completed auctions that have been bid on, with a final value rendered in a green-colored font," he added.
Furby isn't the only toy that is a hot item on eBay. Beanie Babies have made a number of people rich — really rich. Some rare models have sold for over $500,000. Additionally, those Precious Moments figurines have turned into quite the collectible items. Some are selling on the website for hundreds of dollars, and one expert even claims that some could be worth thousands.
If you have toys from the nineties it is time to raid your basement or attic and start searching. It could make you a little richer very quickly!
This article was originally published on