People Flock To Gabby Petito's Instagram Feed To Demand Boyfriend Turn Himself In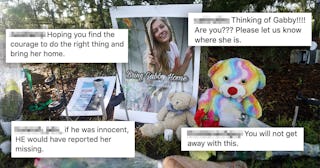 Octavio Jones/Getty and gabspetito/Instagram
Brian Laundrie is still missing and people want answers
Over the weekend, law enforcement officials made the grim discovery of what is likely the body of missing 22-year-old lifestyle blogger Gabby Petito near Grand Teton National Park. Her case garnered nationwide attention after her fiancé, Brian Laundrie, who she'd been traveling with, came back to Florida from their summer-long trip without her.
Petito was near the end of a "van life" documented road trip she'd been on with Laundrie when she went missing. Now, Laundrie himself is missing and believed to be hiding out in the Florida Everglades. People who have been following the case have been flocking to her Instagram page where she'd been documenting their trip begging him to turn himself in.
"On behalf of the FBI personnel and our partners, I would like to extend sincere and heartfelt condolences to Gabby's family," FBI agent Charles Jones said on Sunday after finding the body. "As every parent can imagine, this is an incredibly difficult time for the family and friends. Our thoughts and prayers are with them."
Police began looking at Laundrie as a person of interest as he was the last one seen with her. He was not willing to talk with investigators about Petito's disappearance before he went missing. The FBI launched an investigation on Friday to find him and authorities temporarily removed his parents from their home as the search for clues continues. As of this morning, police also declared their home a crime scene.
"Full forensic identification has not been completed to confirm 100% that we found Gabby. The cause of death has not been determined at this time. We appreciate your continued support and patience as we work through this process," Jones said.
Police began looking for Laundrie near a nature reserve near his home, but have now shifted their focus to a broader area. "At this time, we currently believe we have exhausted all avenues in searching the grounds there," North Port Police spokesperson Josh Taylor said.
Petito and Laundrie had been traveling together in a white van this summer, regularly posting photos and stories to their social media pages with the hashtag #vanlife. Unfortunately, the posts stopped in late August. He then returned to his home in North Port, Florida, on Sept. 1 with their van but Petito was not with him. Petito's family reported her missing on September 11 after being unable to reach her.
Petito's father, Joseph Petito, tweeted a picture of her Sunday evening, saying, "She touched the world."
Richard Stafford, an attorney representing Joseph Petito and her mother, Nicole Schmidt, issued a statement asking that the family be given space, CNN-affiliate WABC reported.
While the search continues for Laundrie, the world can only wait and hope he turns himself in.