Gabi Fresh's Size Inclusive Lingerie Will Make Everyone Feel Gorgeous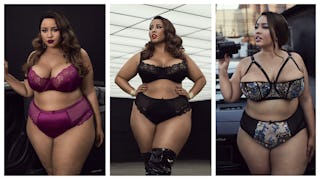 Images via Playful Promises / Gabi Fresh
Bless Gabi Fresh for making gorgeous lingerie for every body
The fashion industry has traditionally not been kind to women of a certain size. That's especially true when it comes to the lingerie sections, where women who are, shall we say, better-endowed than others have often been relegated to boring, plain colored, thick-strapped grandma bras.
But more and more, we're embracing bodies in all the shapes and sizes they come in, with gorgeous trailblazers like plus-size influencer Gabi Fresh leading the charge. Since every body deserves the most gorgeous clothes, Fresh just dropped a size-inclusive lingerie line that is truly gasp-worthy.
Her collaboration with Playful Promises includes panties, bras, matching sets, camis, pajamas, bodysuits and more. It's all available up to a size 24, and bust sizes 36B-44I. Select pieces are available up to a 26. All of it is reasonably priced. And all of it is seriously beautiful.
Like check out this lace and satin bra and panty set.
Or this absolutely stunning sequined and embroidered set.
Want it in a one-piece? You can get it in a one-piece. Ugh, so gorgeous.
Or how about adding a little color to your undies drawer with the lace and satin set in hot pink?
Maybe a matching cami top with some frilly French knickers?
Top all your gorgeous new pieces with a sheer tulle robe.
And then get cozy as hell with some satin jammies. Because you deserve it.
If you haven't whipped out your credit card and settled in for a shopping spree yet, I admire your self control. Also, did you notice that Fresh herself modeled most of the looks for the rollout? Yeah, she's a total queen.
But don't just take my word for it.
"I definitely wanted to go bold and push the boundaries of what plus size women are told they are supposed to wear," Fresh told Buzzfeed. "As a 38HH, my lingerie options are severely limited, and often are just boring full-coverage bras. I made sure each piece I designed had special details and fabrications, from sequins to velvet to embroidered mesh."
Amen to that. Women of every size and shape deserve access to whatever the hell they want to wear in the sizes that will fit their bodies. Thanks, Gabi, for delivering on that and then some.