Gabrielle Union 'Devastated' After Dwyane Wade Had A Child With Another Woman In 2013
by Madison Vanderberg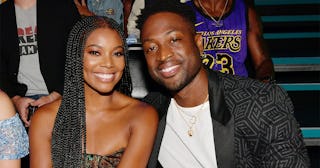 Emma McIntyre/KCASports2019/Getty
Gabrielle Union opens up about her struggle to conceive amid learning husband Dwyane Wade fathered a child with someone else
Years ago, before Gabrielle Union and Dwyane Wade were married, they took a break and during that time, Wade fathered a child with another woman. Union hasn't spoken about this time in her life all that often until now, in her forthcoming memoir, where she reveals the "trauma" of learning that Wade had a baby with someone else while she was struggling with her own fertility. She said it's taken her this long to have the strength to open up about it.
Union and Wade have been together since 2009. For a time in 2013, they did separate, and during that break, Wade had a child with another woman, his son Xavier Zechariah Wade, now 7. Union and Wade got back together, got married, and eventually had a child of their own, the incredibly precocious 2-year-old daughter Kaavia James Union-Wade (whose mommy-run Instagram account is adorable, if you arne't already following).
In an excerpt from Union's upcoming book, You Got Something Stronger (via Time), Union says she was just as devastated as you'd imagine to learn the news about Wade and the other woman and it was made harder in light of her own desires to be a mother.
"In 2013, before we were married, Dwyane had a baby with another woman," Union wrote. "It should go without saying that we were not in a good place at the time that child was conceived. But we were doing much better when he finally told me about the pregnancy."
"To say I was devastated is to pick a word on a low shelf for convenience," Union explained. "There are people — strangers I will never meet — who have been upset that I have not previously talked about that trauma. I have not had words, and even after untold amounts of therapy I am not sure I have them now."
Over the years, Union has been extremely brave and forthcoming as she's shared her journey to motherhood.
Union has previously revealed her diagnosis with adenomyosis, has struggled with infertility, has gone through the trauma of multiple IVF cycles and wrote in her exceprt that she's had "more miscarriages than I could confidently count."
"The experience of Dwyane having a baby so easily — while I was unable to — left my soul not just broken into pieces, but shattered into fine dust scattering in the wind," Union writes.
At the time, Union was considering taking the drug Lupron to help her conceive, despite severe side effects, and it was Wade who saw the pain she was putting her body through and told her that she needed to consider stopping the efforts to get pregnant and consult a surrogate like her doctor had suggested a year earlier.
"He looked me in the eye," she writes, and said, "'As much as we want this baby, I want you. We've lost too much in our relationship for me to be okay with encouraging you to do one more thing to your body and your soul.'"
Eventually, Union and Wade found their surrogate, who after a complicated emergency c-section, gave birth to their beautiful daughter Kaavia James. Looking back in her essay, Union says the journey was necessary.
"Each day, he had worked to be forgiven, and I had chosen to do so. And part of this journey of making peace with our love is also making peace with ourselves," she writes.
"I had come to accept that without that awful collision in our lives — this Big Bang moment in our relationship that set our galaxy as we knew it — we wouldn't have become the individuals we wanted to be. The me of today would not have stayed with him, but would I be who I am now without that pain? I remember a small voice in my heart telling myself to leave, but my fear of public humiliation was so great that I didn't take my own advice," Union add. "…If I am telling the fullness of our stories, of our three lives together, I must tell the truths I live with. And I have learned that you can be honest and loving at the same time."
Union shouldn't have to share any of this with the public and the fact that she does is a testament to the strength, emotional intelligence, and resilience of this woman.