Gabrielle Union On The Burden Of Infertility: 'Hope Can Feel Like A Cruel Joke'
by Cassandra Stone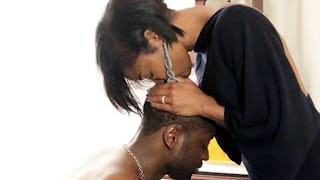 Image via Instagram/Gabrielle Union
Her Instagram post shows Union and her husband preparing for their long-awaited baby: 'We had never been this close'
Gabrielle Union and husband Dwayne Wade recently welcomed a baby girl via surrogate, and the proud new mama has been regularly sharing adorable photos of the happy family on her Instagram page. Her most recent post is emotional, and a brutally honest peek into what life was like for them while struggling with infertility — and it's a must-read.
Before her daughter Kaavia James was born last month, Union struggled with infertility and endured multiple miscarriages while trying to expand their family (Wade is already father to three boys).
Her recent Instagram photo shows Union kissing Wade several months ago when their surrogate was five months pregnant with their baby girl.
"On this night we decided to embrace faith that our lil miracle Kaavia James would make it into our arms," she writes. Wade was getting his first tattoo ever, and he was marking his body with his unborn daughter's name. She shares how important it was to finally feel like they could celebrate something.
"For lots of people/families who have been on their own unique fertility/family creation journey, hope can feel like a cruel joke that plays on repeat," she shares. "You stop letting yourself get excited and you don't dare utter any updates. You carry it all. It can feel isolating and depressing."
Union has been candid in the past about her struggles with infertility and miscarriage. "For three years, my body has been a prisoner of trying to get pregnant — I've either been about to go into an IVF cycle, in the middle of an IVF cycle, or coming out of an IVF cycle," she wrote in her book We're Going to Need More Wine. "I have had eight or nine miscarriages."
"You wonder if you are defective," she continues. "You are not. You wonder if you are worthy. You are. You feel you feel you feeeeel."
Infertility is undoubtedly one of the most isolating experiences in the human experience. You're trying so hard to bring a life you desperately yearn for into the world — and thanks to social media and your general age range/life phase, you watch everyone around you succeed where you feel like you've failed. It's so deeply personal. The pain is almost unspeakable at times. You feel like giving up; you feel like everyone around you is giving up for you.
It can be pretty brutal. Which is why Union's words are so important for other women to hear.
"You are not alone. You are loved and worthy and every feeling is real and understood. On this night, we allowed ourselves to stop holding our breath out of fear. We still had four months to go. We had never been this close."