'I've Had 8 Or 9 Miscarriages': Gabrielle Union Shares Infertility Struggle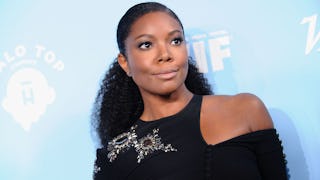 Image via Jason LaVeris/FilmMagic/Getty Images
Women experiencing infertility should not have to suffer in silence
Suffering from a miscarriage or struggling with infertility can be absolutely shattering for all involved. Experiencing one miscarriage, though common, would be painful enough. But multiple, repeated pregnancy loss is something no person should have to endure. Actress Gabrielle Union recently opened up about her recurrent pregnancy loss and infertility to bring forward conversation and to let others know they aren't alone.
Union, 44, is sharing her struggle to conceive with husband of three years, Dwyane Wade. The couple, who have been married since April 2014, have been experiencing loss almost since the beginning. "For three years, my body has been a prisoner of trying to get pregnant — I've either been about to go into an IVF cycle, in the middle of an IVF cycle, or coming out of an IVF cycle," she wrote in her new book We're Going to Need More Wine, excerpted exclusively for PEOPLE.
"I have had eight or nine miscarriages."
Union, who is stepmom to Wade's kids from previous relationships, Xavier, Zion and Zaire mentioned her fertility struggles in a 2015 interview with Redbook. "So far, it has not happened for us," she said. "A lot of my friends deal with this."
According to RESOLVE.org, recurrent pregnancy loss, the loss of two or more clinical pregnancies, happen 15-20 percent of the time. But "for women who have a history of two or more previous losses, the risk of yet another miscarriage increases to about 40%. In total, that's about 5% of women who will have at least 2 consecutive miscarriages." Only one percent of women suffer three or more.
https://www.instagram.com/p/BZfRB6oAO7a/?taken-by=gabunion
Union admits that at first, she didn't see herself having kids. "Then I became a stepmom, and there was no place I'd rather be than with them," she writes. The actress also sounded off on people's incessant curiosity about when a woman will become pregnant. People constantly asking, "'Do you want kids?'" she said. "A lot of people, especially people that have fertility issues, just say 'no' because that's a lot easier than being honest about whatever is actually going on. People mean so well, but they have no idea the harm or frustration it can cause."
Her message, though heartbreaking, is also one of enduring hope. She and Wade "remain bursting with love and ready to do anything to meet the child we've both dreamed of."
Union's book is available for purchase on October 17.
This article was originally published on