Gabrielle Wants To Let Daughter 'Fall On Her A*s And Make Mistakes'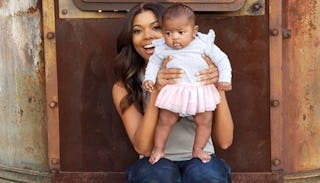 Image via Instagram/Gabrielle Union
Gabrielle Union has figured out the important lessons she wants her daughter to learn
Gabrielle Union has rapidly become a favorite celebrity mom to follow on social media. She keeps things delightfully honest, happy but real, and most of all — she loves to share how much she loves her baby girl, Kaavia James. So it's no surprise that her parenting philosophies are admirable as well.
In a new interview with Women's Health magazine, Union opens up about her struggle with infertility, what she needs to do to stay balanced for herself and her family, and how she hopes to parent little Kaavia as she grows up.
"There's nothing more that I wanted than to cook my own baby," she says about her struggle with infertility. After trying IVF, she and husband Dwayne Wade were down to three embryos, and they agreed that surrogacy seemed like the best option. Last fall, they welcomed the arrival of their long-awaited daughter, Kaavia.
When it comes to how she wants to raise Kaavia, Union feels that life experience has helped her realize her parenting philosophies. As an accomplished actress at 46, she says she doesn't feel like she's missing out on anything, like she might have if she were a younger parent. "Now I'm in the right mindset and mental space, and I'm open to being the best mom I can be," she says.
Which also means she's had time to figure out what she thinks is most important when it comes to the life lessons she wants her daughter to learn. "I want to instill in her morals, values. And then I want to give her space to fill in those gaps, fall on her ass, and make mistakes," Union says. "Get an F because she didn't study. Pick the wrong dude. Pick the wrong friends and figure it out. I don't want to be super judge-y."
Many of us grew up under "tougher," stricter parents. Many of us don't want to repeat exactly how we were raised, and that seems more important than ever to this generation of moms. Kindness, empathy, and being in tune with our kids' big emotions are all very important lessons to teach them.
So is failing. And learning from that failure. It's the only way our kids will truly grow as individuals and learn who they are — and Union freaking nails this point.
And if nothing else, Kaavia James has a smart, successful, driven, thriving mother to look to as an example. She worked so hard to get her daughter here, and it's clear she's soaking up every single minute of motherhood.
This article was originally published on