Gabrielle Union Responds To Homophobic Comments On Her Family Photo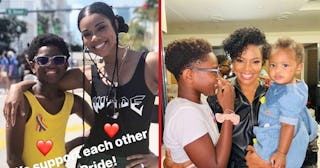 Dwya Wade/Instagram
Gabrielle Union is not here for any internet shaming when it comes to photos of her family
Gabrielle Union and her husband, Dwayne Wade, consistently make it clear on social media how much they love their family. Recently, Wade shared a photo of Gabrielle, their daughter Kaavia James, and his child from his first marriage, Zion, in his Instagram story that, unfortunately, garnered some negative attention. But Gabrielle proved she's a stellar stepmother when she came in with an excellent clapback.
In the Instagram story, Wade captioned the photo "My girls" with a heart emoji.
Both Wade and Union have been vocal of their support of 12-year-old Zion as he explores his identity. They've even attended Pride celebrations with Zion — which garnered them lots of praise for being such supportive parents.
Someone posted a screenshot of the Instagram story on Twitter, with the caption "What y'all think about this?" Sadly, the tweet brought forth many homophobic and transphobic comments.
Union was extremely not here for the negative commentary about her family, thankyouverymuch. She responded with the perfect clapback — which ended up going viral.
"Looks like love to me, " she tweeted. "I truly hope that everyone gets the love, support and hugs they deserve. Also Kaav ain't with the dumb shit. Peace & Blessings good people."
Earlier this year, Union attended Miami Pride with Zion while his dad was traveling for work. When asked about Zion attending a Pride parade, Wade responded perfectly.
"I don't really talk about it much because it's Zion's story to tell," the NBA star told Variety at the time. "I think as a family, we should support each other. That's our job. And my job as a father is to facilitate their lives and to support them and be behind them in whatever they want to do."
He added that he doesn't feel comfortable accepting accolades just for being a good parent. "I'm very uneasy about accolades that come from supporting my kids or the negativity that comes from it," Wade said. "I'm doing what every parent has to do. Once you bring kids into this world, you become unselfish."
What Wade and Union are doing by supporting and loving Zion may just be the natural way of parenting to them, but they're also setting such a wonderful example to parents everywhere about love and acceptance. They're parents who show what it's like to love their children fiercely, for exactly who they are, and they're ready to protect them at all costs. If that doesn't deserve praise, I don't know what does.