Gal Gadot Got Celebs All Over The World To Serenade Us During Quarantine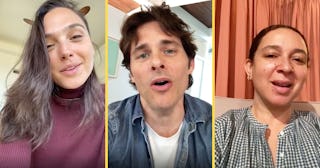 Gal Gadot/Instagram
Gal Gadot organized an entire choir of celebrities to remind us that everyone is in it together to fight the coronavirus
As the novel coronavirus continues to spread around the world, more and more people are being forced into isolation — whether that's because their country, state, or city is on an official lockdown, because they're quarantined after exposure to the virus, or because they're practicing social distancing, the best thing any of us can do to help slow the virus's spread enough that it won't overwhelm hospitals and healthcare workers. All the isolation can definitely be, well, isolating. But Gal Gadot came up with an idea that's helping remind us that everyone in the world — even the most famous celebrities — is in this fight together, even when it feels like we're fighting alone.
In a video posted to Instagram, Gadot had some words of encouragement for those of us who are feeling the pressure of isolating, especially with how crazy the world is right now.
"Day six in self-quarantine," Gadot said. "I gotta say that these past few days got me feeling a bit philosophical. You know this virus has affected the entire world. Everyone. It doesn't matter who you are, where you're from — we're all in this together."
She continued, "I ran into this video of this Italian guy playing the trumpet on his balcony to all the other people who were locked inside their homes. He was playing 'Imagine,' and there was something so powerful and pure about this video."
Then, Gadot started to sing "Imagine" by John Lennon herself. And just as we were settling in for a little concert from Wonder Woman, the screen suddenly switched, and there was Kristen Wiig continuing the verse. Then Jamie Dornan, and Labrinth, James Marsden, and Sarah Silverman. The list keeps going on as more and more A-listers and singers chime in with lines and verses of their own. It turns out that Gal Gadot put together an entire choir of celebrities to serenade us while we're quarantining, and we truly didn't know how much we needed this.
"We are in this together, we will get through it together. Let's imagine together," she wrote alongside the video. "Sing with us."
This is the kind of content we need in these trying times. Thanks to all the celebrities who participated, and hopefully, this trend of being entertained while quarantined continues.
This article was originally published on