Gal Gadot Shares Pregnancy News With Adorable Family Bump Pic
by Erica Gerald Mason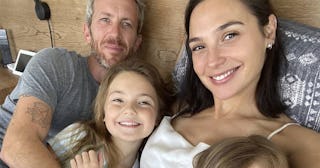 Gal Gadot/Instagram
Gal Gadot is going to be a mama of three!
Wonder Woman star Gal Gadot skipped the pageantry (and lately, danger) of a gender reveal party and announced her pregnancy on Instagram on Monday. "Here we go again," Gadot captioned a family snapshot featuring her, her partner Jaron Varsano and their girls: Alma, 9 and Maya, 3.
Her pregnancy announcement comes after she presented at the Golden Globe Awards on Sunday – looking 100 percent glam, as always.
A Gal Gadot Instagram fan account posted a shot of the actress.
Gadot, who dotes on her daughters, uploaded a picture of a family outing at a lake. "Two families coming together – ours and the ducklings
😂🦆🐣.," reads the caption.
As reported by People, last winter Gadot discussed her family and how they were able to be included in a special scene in Wonder Woman 1984.
"I have two daughters, both of them appeared. My oldest one appeared with Asa, [director] Patty [Jenkins]'s son, and then my youngest one, whom I was pregnant with during the reshoots for Wonder Woman, the first one, was there with my husband," Gadot shared. "To have them captured in the film with me, because they are a part of it, meant a lot, and it's an amazing, amazing souvenir that we will forever cherish."
At the time of Wonder Woman 1984's release, Gadot posted a photo of how she feels about home and family.
"Home…This world is so fragile yet so resilient, it survived and flourished through the toughest battles and the hardest times," the Instagram post reads. "All we need is hope, love and to rely on one another and there is nothing we cannot overcome. #Goals"
In January, Gal posted an adorable photo on the 'gram of her reading Natalie Portman's book, Natalie Portman's Fables, as a bedtime story to her girls.
"Thank you @natalieportman we absolutely LOVE your beautiful creation," Gadot posted.
Another Instagram post showed the family in a group hug. "My everything," Gadot wrote.
Back in August, Gal showed her daughter, Alma's first day of school (via Zoom). "Alma's first day as a third grader.. Before COVID-19 I never thought the first day of school can look this way," Gadot shared with her followers. "We're in a different country than where school is , in a different time zone (Her zchool (zoom school) started at our evening) but you know what, she was so happy and excited to see her friends.. baby, I wish you and all the students out there a productive, interesting and successful school year ♥️"
People goes on to mention how Gadot spoke about the strength she felt when she delivered her daughter.
"It's cheesy, but I feel like Wonder Woman when I give birth. When you deliver, you feel like you're a god. Like, 'Oh my God, I made this!' The best thing is to become a mother and to give life."