Gal Gadot's Husband Wears A T-Shirt That Proves He Knows How Lucky He Is
by Mike Julianelle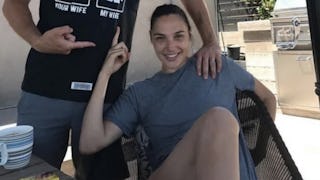 Image via Imgur
The actress's husband is as in awe of Wonder Woman as we are
It turns out it's not just the moviegoing audience that appreciates Gal Gadot's box office-smashing role as Wonder Woman. Her husband showed off a t-shirt that made it clear he also knows exactly how super his wife is.
The groundbreaking love story in the box office-dominating superhero movie isn't the only one worth celebrating. Clearly Gal Gadot's husband, Yaron Varsano, has no trouble being the man behind the super-heroine.
A picture is going around of the man wearing a Wonder Woman-themed t-shirt indicating just how wonderful he thinks his wife is.
A photo of him wearing a Wonder Woman shirt is floating around the web. The shirt compares your "ordinary" wife to the Amazonian superhero, and it's definitely on point when you're wife actually plays the bad-ass Diana Prince on the big screen.
Anyone hoping Gal Gadot might be available is definitely going to be disappointed to find out that not only is she married, but her husband appears to be 100% aware of how good he's got it.
It's nice to know that not only does he not take his wife for granted, Varsano clearly doesn't have a problem ceding the spotlight to her. It's great to see a husband singing the praises of his famous wife without bristling at the well-deserved attention she's getting.
While anyone can buy the shirt to show their appreciation for their wife – smart husbands are aware of how superhuman our wives are, with or without any magic powers – it's especially appropriate for the man who is actually married to Wonder Woman herself.
Of course, while she may not have Wonder Woman's superpowers, she did film some of the movie while she was pregnant, so we wouldn't want to get on her bad side.