Gal Gadot Won't Play Wonder Woman Again Unless Brett Ratner Is Out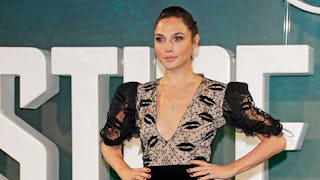 Image via David M. Benett/Dave Benett/WireImage
Seven women accuse Ratner of sexual harassment or misconduct
Gal Gadot is just as serious about protecting victims in real life as she was on the big screen in "Wonder Woman." The movie star is reportedly refusing to return for the sequel as the badass superhero unless filmmaker Brett Ratner is removed from the project, according to Page Six. At least seven women have accused Ratner of sexual harassment or misconduct.
Last month, Gadot was scheduled to present Ratner with an award at a dinner in his honor, but she allegedly backed out when sexual misconduct claims against him surfaced. Apparently, Gadot has no desire to make Ratner more money via the "Wonder Woman" franchise. "Brett made a lot of money from the success of 'Wonder Woman,' thanks to his company having helped finance the first movie," a Warner Bros. insider allegedly told Page Six. "Now Gadot is saying she won't sign for the sequel unless Warner Bros. buys Brett out [of his financing deal] and gets rid of him." The alleged sexual harasser will take home a lot of money from the original that grossed more than $400 million thanks to his production company, which co-financed the film.
Six women spoke with the Los Angeles Times about their experiences with Ratner, which the newspaper described as "a range of sexual harassment and misconduct that allegedly took place in private homes, on movie sets or at industry events." One of those women was Olivia Munn, who said Ratner masturbated in front of her in his trailer on the set of "After the Sunset." The movie – which Ratner directed – was shot in 2004, when Munn was still an inspiring actress. "I've made specific, conscientious choices not to work with Brett Ratner," Munn explained.
Since the initial L.A. Times story ran, the newspaper has been contacted by at least 45 others who have reported new allegations of misconduct by the filmmaker. Journalists at the paper are working to investigate each claim. In the meantime, actress Ellen Page took to Facebook to share her experiences of sexual harassment by Ratner. "[Ratner] looked at a woman standing next to me, ten years my senior, pointed to me and said: 'You should fuck her to make her realize she's gay,'" Page wrote of the incident that she said occurred during a meet and greet for the film X Men: The Last Stand. The actress was 18 at the time and had not yet come out to herself or anyone else. "I proceeded to watch him on set say degrading things to women," the actress shared. "I remember a woman walking by the monitor as he made a comment about her 'flappy pussy.'"
Like most of the men accused of sexually harassing or assaulting women in Hollywood, Ratner is rich and powerful, which is the main reason so many women felt powerless after his misconduct. It's incredibly difficult for survivors to share their stories. They're almost never taken seriously even when they have evidence. And they are criticized and blamed by folks who think sexual misconduct is the victim's fault. And more often than not their attacker is a boss or mentor – i.e., someone who can ruin your career – which makes reporting the attack even harder.
Thankfully, Gadot might be in a position to take Ratner down. "She's tough and stands by her principles. She also knows the best way to hit people like Brett Ratner is in the wallet," the Warner Bros. insider said. "She also knows that Warner Bros. has to side with her on this issue as it develops. They can't have a movie rooted in women's empowerment being part-financed by a man ­accused of sexual misconduct against women."