Gal Gadot Visits Children's Hospital Dressed As Wonder Woman
by Christina Marfice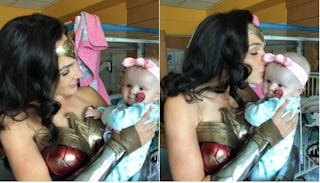 Image via Kelly Swink Sahady/Facebook
Try not to cry at these photos of Wonder Woman Gal Gadot visiting a children's hospital
If there's one thing we love, it's when celebrities dress up as their kid-favorite characters to visit their young fans. And it's even better when those young fans are dealing with illnesses no child should have to face. Hospitalized kids' lives are way too hard for how young they are, and they deserve every wonderful surprise the world can throw at them. So thanks, Gal Gadot, for donning your Wonder Woman costume and heading to a Virginia children's hospital.
Gadot dropped in to visit some of her youngest fans last week. She was in full Wonder Woman gear while she snuggled babies, played with toddlers and visited with staff and parents at Inova Children's Hospital in Falls Church, Virginia.
The hospitals residents and parents and staff alike were thrilled that a literal hero stopped by to help lift all their spirits, and many of them thanked Gadot in touching social media posts.
One of the doctors at Inova even posted a group shot of Gadot and some of the other doctors and nurses, writing, "You are a true Wonder Woman. The kids loved it…and so did the staff."
This isn't the first time Gadot has reached out to kids battling illnesses. Last year, she wrote a personal Facebook message to an Australian 5-year-old who was fighting a rare cancer.
And celebrities doing good deeds for young, sick fans is one of the most heartwarming things that happens regularly in the age of the internet.
After the terror attack on her Manchester, UK, concert, Ariana Grande made sure to visit hospitalized fans. When a viral tweet described a terminally ill boy who wanted a message from the Avengers, they assembled and made it happen. And Johnny Depp has been dressing up as Captain Jack Sparrow to visit children's hospitals in character for years.
In this age of awful news daily, it's nice to know that we can still have nice things.
This article was originally published on