Make Your BFF Very Happy With These Galentine's Day Gifts
by Team Scary Mommy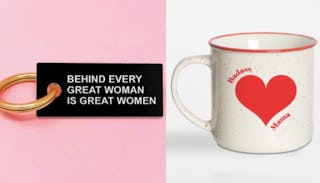 Image via Scary Mommy
Galentine's Day is just around the corner and it's time to shower your BFF with some love
Valentine's Day is coming up which is cool and whatever, but we'd like to focus your attention on Galentine's Day, the real MVP holiday. This is the perfect opportunity to give your best bud a large heaping of love with hilarious t-shirts, delicious smelling candles, and girl power mugs.
No, but seriously, you and your best buds WERE cool once. Remember when you used to go out and do crazy things and not put on your pajamas at 6:30 PM? Well, here's a reminder in the form of a very cute t-shirt.
I mean, is there really any sentiment more accurate than this? Galentines of the world, unite.
Sorry Nancy Sinatra, but we're going to need to do a little song lyric revision. Your BFF is definitely going to want to iron this bad boy on her jacket and remind men everywhere that one of these days these boots are INDEED gonna walk all over you.
Is there really anything cuter to give your galentine than this canary yellow owl card and little owl pin? Nobody needs chocolates when they've got adorable owls.
This candle is a much less annoying way to remind your best buds that you guys are "squad goals" (ugh). Also, you can snag it in delicious colors like metallic rose, lavender&sage, and spicy blood orange.
Sometimes your best bud needs to be reminded to call the F down (in the most loving way, of course). Say it with this bubblegum pink candle that smells like the blossoms of a Japanese Cherry Tree.
"Badass Mama" Heart Camper Mug
Your galentine should be reminded every single morning, while she blearily drinks her coffee, that's she's a badass mama.
She's the Blanche to your Rose. The Sophia to your Dorothy. Should you binge watch Golden Girls with your BFF on Galentine's Day, while wearing these shirts? Yes, yes you should.
Here's to the best Galentine's Day yet. Leslie Knope would be so proud.