'Game Of Thrones' Baby Names Are Blowing Up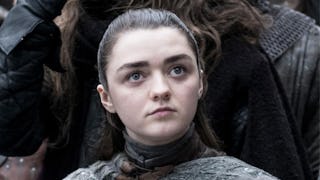 Courtesy of HBO
If you aren't caught up on the latest Games of Thrones tea … why are you even on the Internet right now?! It's like a minefield of spoilers. And anyway, you should be watching what was, arguably, the most epic episode yet as we all hyperventilated (and pooped ourselves a little) during the Battle of Winterfell.
Without giving anything huge away, let's just say that we can all agree on one thing: The ladies held it down. The valiant Ser Brienne! The brave Lyanna!
And … of course … Arya. Motherfucking. Stark.
We always knew she was a badass, but now that badassery has been elevated to legendary status. As in, the kind of legend people want to name their kids (and their … everything else) after.
Look no further than Twitter for proof:
Kinda funny how someone who famously said, "A girl has no name" has, in fact, become the name.
Though people are favoring GoT names more and more (Khaleesi is nearing the top 500, spending 2018 in position #549 according to Social Security data, which most recently updated in May), Arya has enjoyed the biggest surge in popularity. It wasn't even in the top 1,000 until 2010, but by 2018, it was #119 on the list.
Obviously, thanks to her stellar performance at the Battle of Winterfell, we can expect a fresh onslaught of Aryas.
(RELATED: See our lists of GoT-inspired baby girl and baby boy names!)
If you like the sound of the name but don't want to jump on the GoT "we-stan-Arya-Stark" bandwagon, these alternative choices are as solid as Valyrian steel …
Not only is it the same letters in Arya, only scrambled, it's also the name of another GoT treasure, Yara Greyjoy — and is currently much lesser-used, at #672 on the charts.
It means "lion of God," and is basically Arya without the "ya." This name is also popular enough, but still lesser-used, standing at #719 for girls.
Again, just a scrambling of the letters — and this one isn't even in the top 1,000 in terms of popularity. It means "friend."
This name means "vivacity," which is fitting, because it totally merges the names of two GoT champions who are giving everyone life right now: Brienne and Arya. (You could spell it Brya, although it would probably be more apt to get mispronounced.)
Spelled this way, it's the Russian form of Daria, meaning "kingly" … so, also appropriate for the Arya association. And it rhymes with Arya without being Arya.
This one may not stylistically resemble Arya quite as much as some of the others, but it means the exact same thing: noble. There's also Ada, if you want the same meaning in a shorter package.
What if you're expecting a boy, or just want to branch out from Arya, but are still into paying homage to your love of GoT through your kid's name? Check out our picks for some of the most "wearable" names from the show (spoiler alert: Cersei isn't one of them).
This was a name before the show made it famous; it's actually a Hebrew name found in the Bible. With its fashionable J-beginning and the ending sound like the uber-popular Noah, we can see this one working really well in the real world.
It's a pop culture invention, but that doesn't make it any less of a cool name. And though the Gendry we "know" is male, it could actually work for a girl too.
Bran Stark may have peaced out ("I'm going to go now …") during the heat of battle, but he's still a good (raven's) egg overall. And Brandon is definitely a wearable name, since it dates back to Old English and is currently #124 on the list.
Derived from a Greek word meaning "of the gods," and given the popularity of the similarly-rooted Theo, adding an N onto the end doesn't seem strange.
It's unisex. It's short and sweet. It's the nickname of the first person to kill a White Walker, the first person to cure the deadly greyscale, the first person to clue Jon into the "big news," and the person who everybody just wants to hug: Samwell Tarly. Sam, you're the GoT MVP.
What better way to give a subtle nod to your GoT addiction than to name your kid after its actual tagline? WINTER IS COMING.
It's an alternate form of Brianne, which is the feminine form of Brian, which means "strong" and "noble." Which is exactly what Ser Brienne of Tarth embodies. And beauty, too … just ask Tormund Giantsbane.
Lady Lyanna Mormont. Pint-sized dynamo. Giant-slayer. Shutter-down of mansplainers. This name has no meaning to speak of, as its first appearance was in George R.R. Martin's A Song of Ice and Fire (which, of course, inspired GoT), but we'd argue that Lady Lyanna's character gives it meaning enough. And that meaning is "pure badassery."
A name of Sanskrit origin that means "charm," and the Lady of Winterfell, Sansa Stark, can certainly be charming. She's also mastered the perfect icy demeanor like nobody's business.
Honorable mention goes to Yara, which we've already discussed. And then of course there are the names of some of the actual actors, which are just as fabulous: Emilia! Maisie! Sophie! Kit! Alfie! Gemma!
Whether you're naming your child, your favorite pen, your lawn mower, or your WiFi Arya, or just want a more subtle nod to the show that you lived for every Sunday, you've got plenty of options.
What do we say to baby naming dilemmas? NOT TODAY.
Find inspirational lists and browse thousands of names in the Scary Mommy baby name database!
This article was originally published on