The Whole Cast Of 'Game Of Thrones' Totally Killed It On The Emmys Red Carpet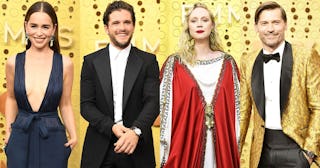 Steve Granitz, Frazer Harrison and David Crotty/Getty
The "Game of Thrones" cast was together one last time for the Emmys and everyone brought their style A game
It's been a couple of minutes since we last saw our favorite Game of Thrones actors and actresses together and the last time, some of them weren't in the best shape (RIP, Theon and Daenerys). That's why we're positively delighted to have seen them not just arrive on the Emmys "purple" carpet last night, but to absolutely slay it. Maisie Williams would know a thing or two about slaying, amirite?
Anyway, behold these total style champions in their red carpet best.
Lena Headey was every inch the ethereal goddess despite her role in the show being the most evil person in all of King's Landing. That just goes to show what a completely tremendous actress she really is. Though she didn't win the Emmy and we think that's just a pile of garbage. Cersei forever.
Kit Harington brought his very best Jon Snow smolder and we're 1000 percent here for it.
Don't even get us started on the absolute glory that was Gwendolyn Christie. She didn't win the Emmy but she's forever won our entire hearts. Look. At. Her.
Our favorite Stark sisters, Maisie Williams and Sophie Turner, hung together for the photographers and it literally made our hearts swell to see the sweet real-life BFFs supporting each other. Turner's princess-like pink and Williams' fierce bedazzled black compliment each other perfectly.
And it wouldn't be a Game of Thrones cast event without our darling (but flawed) Khaleesi, Emilia Clarke. She may have died in Jon Snow's arms, but she's alive and well IRL turning red carpets into her unquestioned kingdom. Look at that plunging neckline and jewel-toned hue — just totally owning it.
Our extremely conflicted knight in not-so-shining armor, Nikolaj Coster-Waldau, looked only stylish and sexy, and thankfully, not covered in castle rubble like the last time we saw him. We still haven't forgiven him for doing Brienne of Tarth that dirty, but this flashy suit certainly helps a little.
As the only winner of a best actor/actress trophy from the cast, Peter Dinklage had a pretty special evening — and the suit to match.
We may not be able to see them all together on Sunday nights in the spring every two years, but we can always peep these photos (and watch reruns) when we miss our favorites.
This article was originally published on