Another 'GoT' Prequel Series Is In The Works And Yes, Please
by Julie Scagell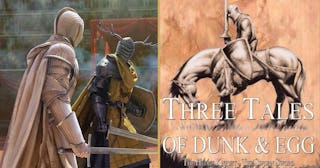 HBO/Dabel Brothers Productions
We need another 'GoT' in our lives right now
GoT fans, rejoice. A series adaptation of Tales of Dunk and Egg, a prequel to the events of Game of Thrones, is in early development at HBO — and 2021 honestly couldn't get any better if it tried.
George R. R. Martin wrote the fantasy novellas series, on which the one-hour show would be based, Variety exclusively reported. It follows the happenings of Ser Duncan the Tall (Dunk) and a young Aegon V Targaryen (Egg) 90 years prior to the events of the seven-volume A Song of Ice and Fire. It takes place as Westeros tries to recover from the Blackfyre Rebellion, which pitted Targaryen against Targaryen in a quest for the Iron Throne. The series will likely follow Dunk and Egg as they travel the land and compete in tournaments for a living.
Martin has published three novellas in the Tales of Dunk and Egg series to date: The Hedge Knight in 1998, The Sworn Sword in 2003, and The Mystery Knight in 2010. The three were collected and published together as A Knight of the Seven Kingdoms in 2015.
No writer has been named for the project yet, but with the success of Game of Thrones, I'd imagine it would be top priority for HBO. The world fell in love with the writing and the characters, and it's about damn time we get a new set to love equally.
The series received 160 Primetime Emmy Award nominations, including eight consecutive "Outstanding Drama Series" nominations, with a total of 59 wins for directing, writing, cast, visual effects, and overall quality. Peter Dinklage is the most awarded and nominated member of the cast for his portrayal of Tyrion Lannister.
The prequel is slated to be a one-hour show, but if its popularity is anything like GOT it could be turned into a series — the second prequel based on Martin's books. HBO is currently working on a straight-to-series House of the Dragon, which debuts in 2022. That show will cover the events that led to the Targaryen civil war in Westeros known as the Dance of Dragons. That series cast Matt Smith (the young Prince Philip in The Crown), who's set to play Prince Daemon Targaryen, King Viserys' younger brother, heir to the throne, and chief dragon rider.
Fans of Martin's series have been hoping for an adaption of Tales of Dunk and Egg for a while and have been waiting patiently since 2017 when discussions of spinoffs began happening with the show's popularity.
HBO previously canceled a Game of Thrones prequel project starring Naomi Watts earlier in 2019, so it's not "official" official until it gets the green light from HBO; but GOT fans will be crossing fingers (and toes) hoping it does.