'Game Of Thrones' Season 8 Has A Premiere Date And Winter Is Officially Coming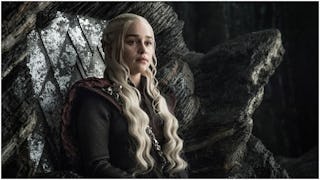 Image via HBO
The premiere date for Game of Thrones has been released and you're going to want to clear your entire schedule
Get ready to return to Westeros one last time. The eighth and final season of Game of Thrones will premiere in April 2019 and the teaser will make you want to hop on the nearest dragon, take off into the night, and destroy all of the White Walkers. Whatever, a girl can dream.
Okay, here's what we can expect. There's going to be six episodes, Dany and Jon are kissing, and there's a huge battle involving the Army of the Dead. Please enjoy thirty seconds of pure, heart-pumping joy below.
Also, here's a picture of Dany casually eating a bleeding organ, as she does.
People were feeling all the GoT feelings. They were also pretty pissed that they have had to wait this long. No one has time for dilly-dallying, HBO.
https://twitter.com/jetpack/status/1062364630394331142
https://twitter.com/jetpack/status/1062382941484052480
Now, let's get into the nitty gritty details. What can we expect from this final season? According to the show's stars, it's going to be a wild, intense, massively jaw dropping ride.
"It fucked me up," Emilia Clarke told Vanity Fair about Daenerys' final scene on the show. "Knowing that is going to be a lasting flavor in someone's mouth of what Daenerys is…"
We're officially on the edge of our seats (slash thrones). Kit Harrington told The Huffington Post that fans can expect a whole lot of boundary pushing in season eight – which really says a lot given the amount of boundary pushing that has already happened.
"You have to live up to the hype that's surrounded the show and the worst thing would be to end without really pushing and trying new things," he explained. "Even if it's a failure, at least trying to go out with a bang."
That means that there will be a whole lot of blood and death and the destruction of all your emotional stability. "Everyone is coming together to fight the impending doom," Sophie Turned teased to Gold Derby. "There's a lot of tension between these little groups, battling for what they think is right. It's Game of Thrones, so it's going to be bloodier and more death and more emotionally torturous than all the years before."
Please just wake us up when it's April.