Winter Is Here -- And So Is The Season 8 Trailer For 'Game Of Thrones'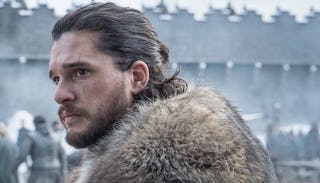 Image via HBO
"Game of Thrones" is set to begin its 8th — and final — season on April 14
We haven't heard from our friends in Winterfell (Stark stan 4ever) or King's Landing or beyond the wall since August 2017 when the seventh season wrapped. Well my fellow Game of Thrones fans, our watch has ended. The trailer for the eighth and final season of the iconic show just dropped — and all we can say is April 14 needs to get here faster than Khaleesi's dragons can fly.
Be prepared to feel complete awe and a deep sense of foreboding for a solid almost two minutes. This is so good.
Winter is here, y'all. It feels like the last season just ended (totally kidding, this wait has been killing us) and suddenly, the final season's official trailer has arrived and there's a lot to unpack.
It opens with Arya running away and looking extremely panicked. Knowing this stone cold assassin is full of terror makes us feel completely uneasy. This is the first legit footage we've seen from season 8 as the previous teaser trailers revealed almost nothing. Now, we're just worried for the best Stark there is (come at us).
When we last saw Jamie and Cersei, he was heading north while a pregnant (and super sneaky) Cersei was doing her usual villainess thing. Jon Snow and Daenerys Targaryen were getting it on. Tyrion was full of worry on a boat. And the whole thing seemed about to come to a head.
Some good news is that judging by some brief flashes, we finally know that Tormund and Beric survived that whole "Night King busting through the wall" situation. PHEW. Not sure I could've handled a Tormund-less season.
We have Jon and Daenerys doing some cool dragon stuff.
Cersei and Qyburn looking super smug over their little double-cross of the entire North.
Perhaps the best reveal of all?
GENDRY IS BACK.
This alone is enough to help me hobble through to April 14, TBH.
Tyrion's looking very concerned, but then again, when isn't he?
Sansa also has an intense vibe around her, but again, that's par for a Stark.
But by the end, our hearts basically sunk into our throats because — White Walkers.
The show's co-executive producer Bryan Cogman tells EW that these last episodes should pretty much leave us breathless — as if we'd expect anything less. "This final face-off between the Army of the Dead and the army of the living is completely unprecedented and relentless and a mixture of genres even within the battle. There are sequences built within sequences built within sequences. David and Dan [wrote] an amazing puzzle and Miguel came in and took it apart and put it together again. It's been exhausting but I think it will blow everybody away."
Showrunner David Benioff is just concerned it won't blow us away enough. "From the beginning we've talked about how the show would end. A good story isn't a good story if you have a bad ending. Of course we worry."
We'll just have to keep the faith in our dragon-controlling heroes and hang on tight for what's sure to be a whirlwind final season of one of the best shows of all time.