Here's How To Bond With Your Kids Over Video Games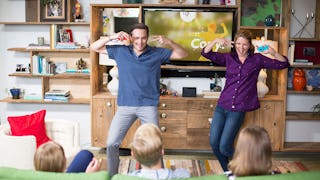 playing video games
We all know that spending quality time with your kids is important, and we tend to envision that time as being spent doing tech-free things. But if your kids are really into video games? Well, then it's time to show them your mad gaming skills, because come on, we've all been gaming forever, right? Gaming is 100% guaranteed to prevent eye rolls when you say "it's family time," and we're not gonna lie — it's a great way for moms to blow off some steam too.
Speaking of moms gaming, let's slay the stereotype that women don't game. Truth is, according to an Entertainment Software Association report, nearly 45% of ALL gamers are women, and far more women play than boys under 18. If you aren't a mom who games, you really ought to give it a shot.
So what to play? You may already have one, but if you don't, Nintendo Switch is pretty much the holy grail of gaming right now. It's incredibly easy to figure out and navigate — either on the TV or as a portable system — so you'll be up to par in no time if you haven't used it (plus it has games that anyone and everyone can get into so we PROMISE your kids will love it as much as you do).
So let's talk about WHY gaming with your kids makes sense.
You're showing that you're interested in spending time on what's important to them.
Many kids don't have much time in their day that isn't adult-directed. They spend a whole lot of their day doing what adults tell them to do. And what we might see as escaping to or getting lost in a video game is simply their way of doing something that they want to do. So when you play their games, you're showing your kids that you also share their interests and are empowering them to choose how you're going to spend time together.
When you're playing, it's pretty hard to be stressed.
One of the best things about playing games with your kids is that you're, well, playing. It's so important that they see you relaxing and enjoying yourself in a way that includes them. For a lot of us, it can be really hard to just be in the moment and forget about the laundry that isn't done, or the dirty dishes, or what's that smell in the pantry. But when you're dodging banana peels in a pink sports car in Mario Kart 8 Deluxe, it's really, really tough to obsess over the weird face your boss made when you passed her in the hall.
You get to show them what healthy competition looks like.
Gaming with kids is a great way to show them how much fun it is to go all in and give it your best — and how to gracefully accept when you don't win. That may be easier for some of us than others. If you feel a little too in touch with your inner Tracy Flick, consider playing Mario Tennis Aces, a step in your journey toward developing your sportswomanship.
And if the kids happen to learn Mom's trick shot skills are not to be trifled with? Oh well!
¯_(ツ)_/¯
You also get to model mad cooperation skills.
There's a reason people literally say "on the same team" when they're talking about experiences that bring people together. With Nintendo Switch, there are multiple options for play including teaming up. Working out a strategy together? Achieving victory as a team? Accepting defeat as a duo? Each of these is a great — and fun — opportunity to show what cooperation looks like.
There's also something really satisfying about working together to do something you'd never get to do in real life — like vanquishing enemies. (Modern life just doesn't have enough opportunities to vanquish. I'd like to speak to a manager, please!)
Gaming counts as family game night.
We all love playing board games or doing other projects with our kids that don't involve a screen, but listen, there's no reason you need to keep your family game night ALL old school. Gaming with the whole family is such a great way to bond, and we've even seen it work to break through the teen angst phase. It's a digital miracle.
Playing games is one crucial way you can connect with your kids. So remind yourself to be in the moment, make memories, and show your kids you're not just a regular mom, you're a cool mom.
Play together anytime, anywhere.
Family fun, on the go! Nintendo Switch is designed to go wherever you do, transforming from home console to portable system in a snap. Now you and your family can have more time to play the games you love, however you like. Visit NintendoSwitchTogether.com to learn more.
This article was originally published on