Gang Of Fifth Graders Take A Bullied Boy Under Their Wing And Teach Us All About Friendship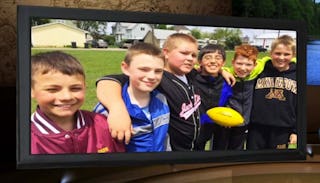 When a group of fifth grade boys spotted a fellow classmate with a learning disability getting bullied — they didn't like what they saw. Realizing that it was not okay for someone to be picked on, they decided to help him out.
The group of five fifth grade friends — Jack Pemble, Jake Burgess, Tyler Jones, Gus Gartzke and Landon Kopischke — saw a fellow student with a learning disability being teased on the playground and decided to take action.
"Why pick on someone," Jack Pemble begins to ask, as Jake Burgess finishes his question, "who has special needs?" The boys are talking about their fellow classmate, James Willmert. Willmert has a learning disability, and some grade schoolers can be ruthless. "They were like, using him and taking advantage of him," Jake explained to KARE 11. "Because he's easier to pick on and it's just not right," Jack adds.
The boys collectively decided to have James' back. They invited him to eat lunch with them and hang out with them during recess. Their teacher thinks some of the anti-bullying lessons they've had at school may have helped — but that the kindness of the boys has gone above and beyond what she expected. James' mom told the news station he used to not want to go out to recess, "It would be a struggle," she said. "Now he can barely eat his lunch to get outside to play with those guys. We just got a basketball hoop last week because he now loves basketball. They're changing him."
When the boys found out James didn't have a video game system, they pooled their money to buy him one. They delivered it to his home, and his mother noticed that every one of them "was smiling like crazy." It was the first time James ever had friends over to play.
The group of friends was nominated for a Spirit of Youth award at the end of the school year, but they insist the award has nothing to do with their newfound friendship. They opened their hearts to someone who was different from them, and in the process realized that he had a lot to give, too. Jake says of his new friend James, "He's an awesome kid to hang out with." James says, "All of these guys are the best friends anybody could ask for."
We could all learn a lesson from these kids. Watch the video. Warning: if you're at work proceed with caution. Your eyes may start "sweating" a little.
Related post: Mean Girls Don't Rule
This article was originally published on