Gap's New Ad Features A Breastfeeding Mom And We're Here For It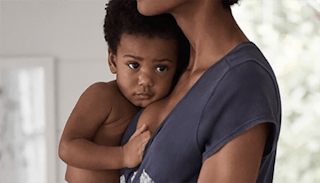 Image via Instagram/Gap
The ad featuring a breastfeeding mom is getting a lot of praise
Gap is known for it's comfortable, affordable clothing for women, men, and kids. But the retail giant is making headlines for a different reason this week — by showcasing a breastfeeding mom in one of it's latest ad campaigns.
Breastfeeding in public is an often debated topic. No matter what your opinion, there's no shortage of people who still feel no shame asking mothers who are feeding their children to cover themselves so they can feel comfortable in public. What's almost as concerning as the stories themselves is the frequency with which breastfeeding mothers are still being made to feel shame about how they feed their child.
But it seems Gap made their opinion know on their Instagram page this week, featuring a mom breastfeeding her child for their new apparel line called Love by GapBody.
The line of chic bras, undies, and loungewear features comfy options for sleeping, laying around the house, and yes, breastfeeding.
"Love your forever favorite. Pima cotton and a secret soft wash make these sleep shirts the ones you'll want to wear, keep, and love. Tap to shop. #LoveByGapBody," the company wrote on Instagram.
The breastfeeding moment happened during the photoshoot and wasn't planned. Model Adaora Akubilo says she's faced questions about breastfeeding her son before, according to the Chicago Tribune, and the subject of breastfeeding is close to her heart, so she's happy the images ended up in the campaign.
When her son needed to eat during the shoot, Akubilo says "I let them know," she said. "They're like, 'Oh, my God, of course it's OK, go ahead.' And they said, 'You can do it right here.'"
"I'm so comfortable just nursing my son anywhere," she said. "If my son needs to nurse, I'm going to nurse him."
The tribute to motherhood is winning tons of approval online, where fans are praising the ad for it's message as well as it's elegant execution.
The "normalize breastfeeding" movement has been around for several years (because this is apparently still a thing we need to do) and Gap's ad, while not directly tied to it, speaks volumes.
And while there have been many public figures who have joined the movement over the years and hundreds of thousands who have tagged #normalizebreastfeeding on social media, a brand as recognizable as Gap is featuring a breastfeeding mother in one of its ads is monumental.
It's still frustrating that any woman needs to justify how they feed their child — uncovered in public, formula fed, exclusively pumping — it shouldn't even be a subject of conversation. But as long as there are people who will offer their unsolicited opinions and make women feel ashamed for their choices, public statements like this should be applauded.
The photo also destigmatizes nursing for women of color, a community who have also receive targeted criticism for their choice to breastfeed in public.
Akubilo says she hopes the images empower other moms. "I don't want women to feel shamed," she said. "It's so important to encourage mothers."
This article was originally published on