Garth Brooks Brings Everyone To Tears Singing 'Amazing Grace' At Inauguration
by Erica Gerald Mason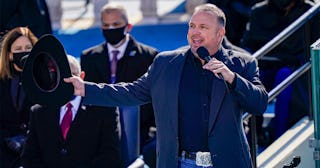 Drew Angerer/Getty
The country singer performed acapella; at one point asking everyone to join him in song
Country legend Garth Brooks sang a moving rendition of 'Amazing Grace' at President Biden's inauguration. Let's all wrap the last part of that sentence around us like a cashmere cardigan: President Biden's inauguration. Mmmmm-hmmmm. And while we're at it: Vice-President Kamala Harris. And Second Gentleman Doug. Whew. That whole 'peaceful transfer of power' thing was a nail-biter for a while, yes?
Just… watch. Not a dry eye in the house.
Brooks, who was backed by the U.S. Marine Band, even asked the crowd and people at home to join him toward the end of the song. "I'd like to ask you to sing this last verse with me," Brooks said. "Not just the people here — but the people at home and at work — as one united."
While the performance was simply lovely, when news got out the singer would perform the classic hymn, his more conservative fans weren't too happy. Esquire reports that last year conservative fans voiced their disapproval when Brooks wore a Sanders jersey. At the time, they assumed it was for progressive then-candidate Bernie Sanders. However, the jersey was for Detroit Lyons player Barry Sanders.
Sanders misunderstanding aside, Esquire points out that Brooks has long been a champion of some progressive ideology. According to the publication, in a Zoom call following the announcement of his inauguration performance, Brooks reminded reporters that he's performed for every sitting president dating back to Carter. As far as inaugurations go, however, Brooks has only previously performed for Obama, where he sang his 1992 hit "We Shall Be Free."
The song, which at the time was banned from many country stations, championed equality, LGBTQ rights, and decried economic disparity.
Overall, people were very into his performance.
Brooks joked, "I might be the only Republican at this place. But it's reaching across, loving one another because that's what's going to get us through probably the most divided times that we have. I want the divided times to be behind us." The singer rarely makes such an open political declaration, and has previously avoided identifying with any political party. "It's not Republican or Democrat. It's a leader for whom I am the civilian of the greatest country on the planet," Brooks said.
Back in 2011 Brooks said about Obama, "I love him to death and I fully support him and I just wish him well because it's got to be hell in that office." After establishing an ongoing friendship with then-President Obama, he also performed at the annual Christmas tree lighting back in 2016. He performed for the Clinton and Bush administrations during special events during their terms as well.
The magazine notes Brooks' "We Shall Be Free" was not the first time that country music embraced what listeners called "liberal" issues. Dolly Parton's "The Bridge" is about a pregnant woman dying by suicide after having no other options. Loretta Lynn's "The Pill" was blocked from radio for mentioning birth control. Reba McEntire's song "She Thinks His Name Was John" is about a woman dying of AIDS.
Dr. Biden personally asked Brooks to perform at the inauguration. "As long as you have people like the Bidens who are hellbent on making things good … That makes me feel good. Because I want to spend the next 10 years of my life not divided. I'm so tired of being divided."
This article was originally published on