This Sassy Prince George Instagram Account Will Give You Life
by Valerie Williams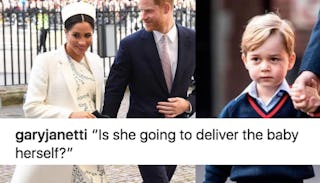 Image via Instagram/Gary Janetti
This brilliant Instagram account reimagines Prince George as totally sassy — and not at all a fan of Meghan Markle
Have you ever wondered how adorable Prince George would sound if he were actually an incredibly sassy (and extremely petty) but always hilarious grown man? Wonder no more. This LOL-funny Instagram parody account is about to be your new favorite thing.
Gary Janetti is a writer and producer (he was executive producer on a little show called Will and Grace — you might've heard of it?). If you're not already following his genius Instagram account that's done in the imagined voice of a snarky, adult Prince George, you need to correct that immediately. If only to see his burns aimed squarely at Prince Harry's new wife, Duchess Meghan of Sussex.
To say that Janetti's Prince George isn't a fan of the newest royal is an understatement. He makes regular jabs about her wardrobe.
And the fact that she's often seen cradling her baby bump.
Not even her wedding day attire was immune from little George's acid tongue.
But sometimes, he softens toward his new aunt a little. Only a little.
But he always returns to his bread and butter — just totally disdainful one-liners.
Janetti's "voice" for Prince George might remind you of another adult-like tot with a British accent. That's probably because Janetti is also a writer and producer for Family Guy. The first thing that popped into my head when I landed on this Instagram account is that it sounds a whole lot like baby Stewie. Like, Kate is totally his Lois.
Janetti tells The Hollywood Reporter that he actually likes Markle quite a bit. This is just his way of paying homage. "I find Meghan Markle super appealing," he said last May before the royal couple's nuptials. "The irony is that this is my way of celebrating her. It's a bit twisted." Janetti is married to stylist and E! reporter Brad Goreski, which must make for some interesting dinnertime conversation considering Goreski covered the wedding festivities for the channel.
If he's not tearing down Meghan Markle, his next favorite target is his own mother — Duchess Kate. Everything is game for Prince George's mocking from her wardrobe…
…to her mothering…
…to her position in line to the throne, which is to say, she doesn't have one….
…to her drinking habits.
He's even weighed in on the rumored catty feud between Meghan and Kate.
He also regularly whines about doing anything that isn't totally royal and posh.
Even Princess Charlotte isn't safe.
Nor is Prince William TBH.
He destroys his entire family on a daily basis.
Honestly, his cattiness knows no bounds and that's why a follow for this account means laughing so hard you almost choke on your coffee every single time you open the app.
If you're totally feeling this account, good news — Markle is due with the next royal baby any day now. We can only imagine what Janetti will be posting once that new material…I mean…new cousin comes into the world.