California Governor's Toddler Son Was On The Loose During His Inauguration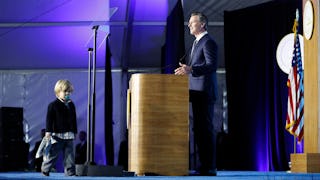 Image via Stephen Lam/Getty Images
Gavin Newsom's 2-year-old son got onstage and stole the show for a few minutes during his dad's inauguration
Gavin Newsom was officially made governor of California yesterday, and during his big speech, his two-year-old son decided to shoot his shot by running onstage and stealing his dad's thunder. The moment was both adorable — and relatable AF.
As Newsom spoke passionately of his hopes and dreams for the state he now leads, little Dutch Newsom came jogging by to say hello — and make the crowd chuckle delightedly.
Newsom, dad of four young kids, didn't miss a beat when he saw his kiddo appear. In fact, he eventually scooped him up and used the moment to speak on the issue of child separation at the border.
"All kids — not just the children of a governor and a filmmaker — should have a good life in California,'' he said, while letting Dutch snuggle on his shoulder. "Not ripped away from their parents at the border. … Not left hungry while politicians seek to pour billions into a wall that should never be built."
He also spoke about early childhood education, an area where he plans to invest $1.8 million along with six months of parental leave for moms and dads residing in the state.
Although he touched on some important points, mostly, he just played second fiddle to the real star of the show — a tow-headed toddler who simply refused to be contained by his mom or his big brother.
The dangling of his lovey blanket was especially cute.
Eventually, Dutch was wrangled and brought backstage — not that he was happy about it. He could be heard crying as Newsom wrapped his speech. Parenting — it's not for the weak.
But the day was definitely an overall success for the adorable Newsom family.
They all got to be there while Newsom was sworn in — complete with Dutch looking a bit zonked, sucking away on his binky.
Newsom joins the legion of parents being publicly disrupted by their little ones and having it be accidentally amazing. Who can forget the incredible footage provided to us by "BBC Dad" and his tiny office invaders? This is the stuff of internet gold.
However well it went for Newsom, after seeing his son in action, some people already want a new sheriff in town.
We're fully on board.