Gay High-Schooler Gets Cutest Promposal Ever From His Straight Best Friend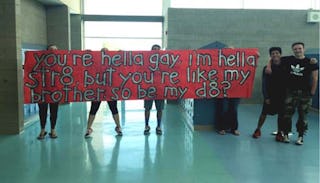 Yes, 'promposals' are a thing now, and it's the time of year when we start to see teenagers asking their dream dates to prom with extravagant gestures. This one stands out. Jacob Lescenski of Las Vegas decided to ask his best friend Anthony Martinez to prom. Jacob is straight. Anthony is gay.
Anthony is on the student council and always plans the dances, but he's never been asked to go to one. "He's a real man," Anthony said of his best friend. "Given the fact he has the guts to fulfill my gay student council dream of always helping out planning dances and never getting asked. I couldn't ask for a better person in my life."
"I decided on going to prom alone because my original date idea didn't work out so well," Jacob told NewNowNext. "Then one night I saw Anthony, who is my best friend, tweeting about wanting a date. So, I came up with the poster idea, asked my friend Mia to make it and asked him that next day." Anthony was in the lunch room selling prom tickets and as he headed upstairs he saw the giant poster, at first glance assuming it was for someone else.
It's a story that's getting a lot of attention, because it's admittedly adorable.
It's refreshing and heartwarming to see humans evolving in front of our very eyes. It gives us a glimpse into a future where nobody cares about your sexual orientation – as it should be. It's going to be hard to trump this promposal.
Have fun, guys.
This article was originally published on