Gay Valedictorian Rejected By Parents Receives $100K In Donations To Go To College
by Julie Scagell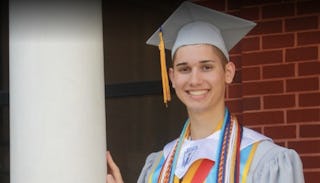 Image via GoFundMe/Jane Martin
When his parents rejected him, a former teacher stepped in to help
Coming out to family and friends has to be one of the most nerve-wracking conversations to have — especially when a person is pretty certain they won't be accepted by their loved ones. That's what happened when a high school valedictorian's Southern Baptist parents banished him for coming out. After that, his college hopes seemed impossible — until some pretty awesome people stepped up to help him out.
Seth Owen, a student who identifies as gay, recently graduated from high school in Jacksonville, Florida, with a 4.16 GPA, NBC News reports. He'd hoped to attend Georgetown University in the fall but couldn't come up with the tuition himself and couldn't count on his parents to help out.
That's when Jane Martin, Owen's former biology teacher, created a GoFundMe page to raise his enrollment fee on her student's behalf.
"Earlier this year (after a year of attempted conversion therapy), Seth's parents gave him an ultimatum," Martin wrote. "He would either continue to attend the church that outwardly attacked him and his sexual orientation or he would need to leave home. For his own well-being and safety, Seth chose the latter."
"The worst part was I was packing my bags, and I was walking out the door, and I was hoping that my mom would stand in my way," Owen says. "I was hoping that she would say, 'I love my child more than I love my religion.'"
Unfortunately, Owen is not alone. According to Pew Research Center, nearly four in ten LGBTQ American adults (39 percent) have been rejected by family or friends because of their sexual orientation.
Owen was insistent on learning, telling NBC News, "I was the nerd in fifth grade who walked around recess talking about how I wanted to be an astronaut. I was always in a textbook, always in the library, always reading something."
Unfortunately, Owen's financial aid package from Georgetown was based on the assumption that his parents would be helping him pay his tuition. "Seth was admitted to Georgetown University and received a financial aid package based on the premise of parental support," his GoFundMe page explains. "Seth appealed this decision with letters from mental health professionals, school personnel, mentors, and community organizations, but Georgetown University has refused to amend his financial aid package leaving Seth with a $20,000 bill to cover his first year."
And with that, the donations started pouring in. "After we had hit $2,000, Seth was just like, 'I'm so surprised that people, like, actually care about me,'" Martin told NBC.
Owen and Martin said if Georgetown does amend the financial aid package, they will use the funds from the campaign to set up a scholarship for other teens in Owen's situation.