Gemma Whelan, AKA, 'Yara Greyjoy' Breastfeeding In Full GOT Costume Is Peak Motherhood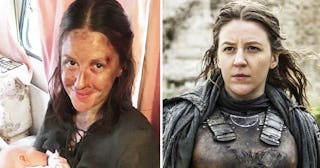 Gemma Whelan via Instagram and Helen Sloan / HBO
We always knew she was a badass
Moms are badass multi-taskers who've been getting it done since, forever. Take this photo of actress Gemma Whelan, who plays Yara Greyjoy on Game of Thrones, just casually breastfeeding her daughter during the filming of Season 8, fully in costume and being the strong woman she is.
Whelen posted a picture on Instagram next to the caption, "Enjoy tonight's episode guys…! Yara's got some big news." It shows the actress in full wardrobe breastfeeding her daughter in between takes. The actress wrote in the comments that the photo was taken after filming the first episode of Season 8 and that she was not, as one fan accused her of, giving away any spoilers for the series. "Just a tease and my actual life on set between whatever we actually were filming," Whelan wrote.
Whelan made her way on onto the hit series and into our hearts during Season 2 as a total ball-buster (sorry Theon) who will do anything to protect the Iron Islands and the Greyjoy name. But during the series, she also had another important role — she was pregnant and gave birth to her daughter with boyfriend Gerry Howell, all while singlehandedly fighting for her true claim to the throne.
Whelan has opened up about being a working mom in the past, telling Good Morning Britain that her daughter was with her "for the whole thing" and that she sometimes breastfed in costume. "I'm really sort of tied into my armor," she joked. "It's quite difficult to get to yourself, let's put it that way." She also mentioned her lucky girl was the only one she's told about the series end, saying, "She can't tell anyone." I've never wanted the power of mind reading more in my entire life.
The picture encapsulates exactly what it's like to be a mom, often doing 20 things at once but always putting your kids first. HBO even commented on her picture saying, "Aggressive fighter, loving mother," which is the perfect way to describe Whelan.
Whelan also revealed that she, too, feels the pressure of having to separate work and family. "I was five months pregnant when I was doing [The Crown] and I didn't tell them because I was too scared," she told Sky News. "See this is the thing, of women in film and TV, I was too scared to tell them at the time I was pregnant in case I lost the job, and of course when I did tell them they were so celebratory," she added. "I think women are quite fearful of 'if I have a baby it's going to change my career or it won't fit in anymore' and actually if you're just really proud of it and say 'I'm pregnant or I've got a baby can we make her part of this' people are so willing," she says.
When asked about playing a strong female character, Whelan remarked the question was a bit redundant. "Women by default are strong," she said. Just one more reason why we love her so.
This article was originally published on