This Car Catching Fire Is Proof We Need To Relax With The Gender Reveals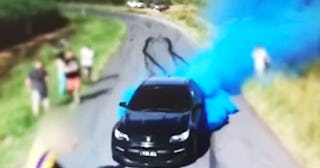 Nine News Gold Coast/Twitter
A "burnout" gender reveal is the latest example of this baby trend going amok
Gender reveal parties are quickly becoming passé as more people understand that gender is a social construct so you're literally throwing a party to alert people that your child is born with a penis or a vagina. However, the people who are still holding onto gender reveal parties have become so fanatical about it, that some are literally setting shit on fire with their frenzied passion. Gone are the days of cutting into a cake to find out if it's blue or pink, people are now doing something called "gender reveal burnouts."
During these "burnouts" a powder is released onto the tires of a car which ignites into a colorful plume of smoke as the tires spin out. A family in Queensland, Australia did one of these burnouts to announce the birth of their baby boy and the car caught on fire.
In drone footage, the car is seen driving down a neighborhood street as blue smoke plumes into the air. Family and friends stand around filming the reveal when suddenly, the car bursts into flames. In the video, the driver (30-year-old expectant father Samual Montesalvo) is seen getting out of the car, but the flames temporarily stop so the driver gets back into the car (??), in case you were wondering what kind of goof we're dealing with here.
Thankfully, nobody was hurt, but the driver was slapped with a reckless driving charge, a $1000 fine, and an order to abstain from driving for six months. However, the internet wasted no time roasting (lol, sorry) the ding-a-ling dad for his ridiculous plan.
This isn't even the worst gender-reveal-gone-wrong-and-ending-in-flames that we've seen. Back in 2017, an off-duty border patrol agent had the genius idea to fire off a bunch of explosive blue powder in the dry Arizona desert. Dennis Dickey fired his rifle at a target that had been laced with Tannerite, a highly explosive substance. Also, in case you were like, "Well, that guy shouldn't have been firing at a highly explosive substance," these "Tannerite gender reveals" are also super popular and you can buy the explosive pink and blue stuff all over the internet. Unfortunately.
So anyway, Dickey set off the blue smoke explosion which turned into an actual explosion and he ended up burning down 47,000 acres of Arizona desert. The whole thing took 20 different fire departments over a week to extinguish and caused over $8 million in damages. Whoopsie.
Last summer, a couple set off pink fireworks in their backyard and nearly killed their friends and family. The couple chose to set off the fireworks from the top of a clothes drying rack so the fireworks fell over and shot off sideways AT their guests.
Listen, if the people aren't going to retire gender reveals in general, maybe retire any gender reveal that relies on explosive or heavy machinery — just a thought.
This article was originally published on