Woman Dies From Explosion During 'Gender Reveal' Party
by Valerie Williams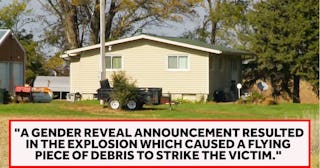 CBS News/Youtube
A 'gender reveal' explosion caused the death of a 56-year-old party attendee
A Knoxville, Iowa woman lost her life over the weekend after a botched "gender reveal" caused an explosion. The 56-year-old woman was attending the party to find out a baby's sex, according to a press release from the Marion County Sheriff's Office.
After her death, an investigation revealed the incredibly sad news that "a gender reveal announcement resulted in the explosion" that sent a piece of debris flying, ultimately hitting the woman and killing her. The 911 call came through around 4:00 PM on Saturday, October 26, reporting that the unnamed woman had been seriously injured. She was later pronounced dead at the scene. There are no other details yet about what caused the explosion and what relation the woman had to the expecting parents.
"I'm sure no one thought that this could end tragically, I mean, who would've thought?" says retired pastor and Knoxville resident Gary Roseboom. "My heart just sank for the family," he says. "It's something that's supposed to be fun and exciting and you have your family there and then, wow. In an instant, everything changed."
Sadly, this isn't the first time the celebratory revealing of a baby's sex went tragically wrong, but it may be the first time it ended in a person's death. In 2017, a botched reveal in Arizona ended in a 47,000-acre wildfire — the famed Sawmill Fire — after a dad-to-be used a high-powered rifle to fire at a target that had been packed with a highly explosive substance called Tannerite. The fire happened back in April 2017 and according to CNN, firefighters from 20 different departments were involved in fighting the fire, which took about a week to extinguish. The damages to the Arizona-owned land totaled more than $8 million. The dad was ordered to pay $8,188,069 in restitution, with an initial $100,000 payment and the rest coming in monthly installments down the road.
There have been other risky sex reveals over the last few years that fortunately didn't end in injury or death, but possibly could have. The time a couple used an alligator to surprise friends and family with the news they were expecting a baby boy comes to mind. Though it's worth noting that both parents in this case are actually trained alligator handlers, it doesn't make it any easier to watch the heart-pounding video of Dad getting very close to a gator's jaws.
It seems some folks will go to great lengths to get that social media-worthy moment when it comes to sharing their baby's sex, but a sad story like this should serve as a reminder to use caution and keep the safety of everyone in mind when it comes to choosing a method to reveal the news.