Gender Reveal Party Leads To 47,000-Acre Wildfire And $220K In Fines
by Jerriann Sullivan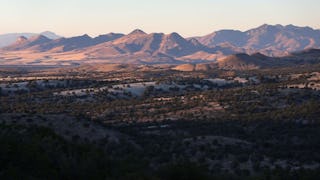 Image via John Moore/Getty Images
Border patrol agent to pay wildfire fines from gender reveal party gone wrong
An off-duty Border Patrol officer has to pay more than $200,000 in fines after starting a massive wildfire when he shot a gun at an explosive during a gender reveal party. The massive blaze took nearly a week to put out, burned 47,000 acres of public land and required nearly 800 firefighters to extinguish it.
Last April, off-duty Border Patrol agent Dennis Dickey started a fire that eventually spread over thousands of acres and cost taxpayers $8.2 million to put out. The Sawmill Fire started at a gender reveal party when Dickey thought it was a good idea to shoot a target that had the explosive Tannerite in it. While Tannerite is a legal compound, it has been linked to several wildfires, the Arizona Daily Star reported.
The goal was to shoot the target, so it released a colored powder – blue would let the party guests know that the family was expecting a boy and pink would signal that the family had a girl on the way. It seems like common sense that guns and explosives shouldn't be included at a party – especially not one on public land, where there were likely children present. Thankfully, no one was injured in the massive fire.
Still, Dickey should have known better considering the weather conditions for the day. Winds were gusting up to 40 miles per hour that day and the National Weather Service had put out a fire watch, Green Valley Fire Department Chuck Wunder told the Star. Fire watches let people know that they shouldn't be starting fires let alone shooting explosives. Wunder said fire watches are warnings that "conditions are ideal for wildland fire combustion and that there is potential for rapid spread."
Which is exactly what happened with Dickey's fire that spread through the Santa Rita Mountains and shut down Arizona 83 at one point.
Dickey wasn't charged with arson because he didn't set the fire on purpose. He did plead guilty to causing a fire without a permit. He'll pay $100,000 toward his total in fines on October 9, when he is sentenced, and then monthly payments of $500 for 20 years. Taxpayers will cover the rest of the $8.2 million it cost to put the fire out.
"It was a complete accident," Dickey said in court. "I feel absolutely horrible about it. It was probably one of the worst days of my life."
It is likely that Dickey will keep his job as a Border Patrol agent. No word on if he had a baby girl or baby boy.
This article was originally published on