'Gender Reveal' Stunt Ends In Plane Crash -- Can We Stop With These Now?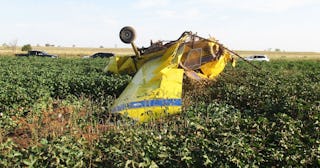 NTSBA
The pilot maneuvered to a low altitude to drop 350 gallons of pink water for the reveal
A preliminary report from the National Transportation Safety Board reveals some, uh, notable new details about a plane crash in Texas that occurred last month. The report says a single-engine Air Tractor AT 602 stalled and crashed after the pilot maneuvered to a low altitude to drop 350 gallons of pink water for a gender reveal.
"The Federal Aviation Administration inspector reported that the accident occurred during a low pass for a gender reveal celebration," the report states. There were two people on board the single-seat plane, according to a statement given by the pilot.
"The pilot reported, that while maneuvering at a low altitude in an aerial applicator airplane, he dumped about 350 gallons of pink water for a gender reveal," the report continues. "The airplane 'got too slow,' aerodynamically stalled, impacted terrain, and came to rest inverted. The airplane sustained substantial damage to the fuselage, right wing, and empennage. The pilot reported that there were no preaccident mechanical failures or malfunctions with the airplane that would have precluded normal operation."
Meaning that the accident occurred as a direct result of the pilot flying the plane too low in order to execute the "gender reveal" water dump. This particular model of plane is most often used as a crop duster, according to KXAN News. The passengers suffered minor injuries and the pilot was not injured, unlike other recent "gender reveal" celebrations.
Last month, a Knoxville, Iowa woman died after a botched "gender reveal" caused an explosion. The 56-year-old woman was attending the party to find out a baby's sex, according to a press release from the Marion County Sheriff's Office. After her death, an investigation revealed that "a gender reveal announcement resulted in the explosion" that sent a piece of debris flying, ultimately hitting the woman and killing her.
This summer, another "gender reveal" ended in literal flames in Australia. A car engaging in a "burnout" — where powder is released onto the tires of the car, igniting into a colorful display of blue or pink smoke. A family in Queensland participated in one of these burnouts to announce the sex of their baby boy– but the car caught on fire.
In drone footage, the car is seen driving down a neighborhood street as blue smoke puffs into the air. Family and friends stand around filming the reveal when suddenly, the car bursts into flames.
In 2017, a botched reveal in Arizona ended in a 47,000-acre wildfire after a dad-to-be used a high-powered rifle to fire at a target that had been packed with a highly explosive substance called Tannerite.
Perhaps it's time, once and for all, to truly question whether these elaborate celebrations (even the tamer ones) over the genitals of unborn children are really worth it? Putting actual lives in danger over the sex of a baby seems like a very counterintuitive way to celebrate life.