Don't Let Anyone Else Define Gender Roles For Your Relationship
by Lecia Michelle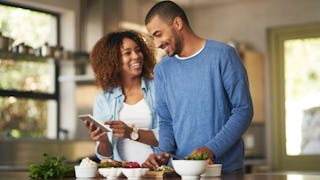 PeopleImages / Getty
My mom believes in traditional gender roles. She also believes being married is one of the highest achievements in a woman's life. I'm not saying she's right or wrong. I am saying not even my mom knows what's best for me. Like many moms, she draws from her own experiences and failures. She wants me to have a better life than she did. She wants me to have a good life. She doesn't understand that I do have a good life — just not the one she envisioned for me.
Putting my own needs first got me what I wanted, and I don't regret anything.
I'll give you an idea of how my mom thinks. She was proud when I earned my degree. She was thrilled when I finally got married.
Let me back up a bit.
After college, I moved across the country. She was worried. I was only 21 and had never been on my own. I don't blame her. I struggled those first few years. I wasn't making much money, so I had roommates. My immediate goal was to live by myself. I'm an ambivert. I can be outgoing, but I need my own space to regroup and re-energize.
I finally got my own apartment, and I loved it. I was 22. About this time, my mom started asking me about getting married. I said I was too young. I wasn't thinking about marriage right now.
Age 27 was the earliest I wanted to get married. I had no opinion about having children. At that point, I was trying to figure out my life. I wasn't ready for marriage and children.
I dated a lot in my 20s. I had two serious relationships that could have turned into marriage. Neither did.
The first man asked me to marry him. We were both 22. We grew up in neighboring towns and had known each other since we were 13. I told him no. I think I said, "Hell no." We were too young and had only been dating for about nine months. I was already tired of him. He acted like a 16-year-old boy. I could just imagine spending my days picking up his socks and reminding him to comb his hair. No, thank you.
The second guy was a little better. I was 25 when we started dating. He was 26. We dated for two years and spent almost every day together. But in that entire time, he never invited me to the home he shared with his family. It was something we argued about, but he never budged. It was an interracial relationship, and I figured his mother didn't approve of me.
The final straw was my 27th birthday. It fell on the same day he was to attend a family celebration. I suggested I go with him and then we go out once it was over. He said no, that he would come over and take me out afterwards. I declined and said, if he was ashamed of dating me, we were finished. He denied he was ashamed, but obviously the relationship wasn't going anywhere if he didn't want me to meet his family. I broke up with him.
My mother was even more disappointed than I was. She hoped I would finally get married. I was 27, so now the question became, "Don't you ever want to have children?" I said I wanted to make sure I could take care of myself. I didn't want to depend on a man to do it.
This wasn't what she wanted to hear.
I entered my 30s. Mom had the same questions. Now she believed I was doomed for spinsterhood if I didn't marry soon. I wasn't worried. I liked being alone.
I was tired of renting and started looking for a condo. When I was in escrow, she said, "Don't you want to wait to buy something with your husband?" I understood what she was saying, but at the same time, why should I hold off being a homeowner because I was single? Actually, I was excited and terrified at the idea of having only my name on that piece of paper. I was a first-time homeowner, and I was 35.
The next few years, I worked and dated. My next serious relationship was at 37. I married this man when I was 40. Looking back, I'm not sure I loved him or that he loved me. But he was nice enough and we got along pretty well. Maybe my mother's words were finally affecting me, too. I still loved my solitude, but I was lonely too.
My mom was thrilled. Now I had someone to take care of me. She also changed her script from "Don't you ever want to have kids?" to "You know you're too old to have kids." By then I realized I didn't want them. I stayed married for almost eight years.
I knew early on, even if I wanted children, I would be parenting by myself. He believed women should do the child-rearing. I worked 12 months out of the year. He worked in film and television and had breaks between projects where he was home for months at a time. Considering his unwillingness to even plan dinner, grocery shop, walk the dog or clean the house when he was home… well, that told me he wasn't going to be a particularly helpful father. He already wasn't a helpful husband. I saw an unhappy future with him. This wasn't someone I wanted to spend the rest of my life with. We had little in common and as time went on, I realized it wasn't working. We divorced.
Here I am, several years later. I'm in a committed relationship with a man I've known for years. We're getting married next year. We laugh together, and we're best friends. We've discussed how we each feel about gender roles. We both believe they're fluid and subjective. He's a better cook than I am, and he loves it. We'll cook together when we can. We'll both clean since neither of us minds doing it. He's extremely handy, and I'm pretty handy. So we'll work on household projects together unless we decide to pay someone to do the work. If something needs done, one or both of us will take care of it.
My mom adores him.
This relationship is right for me. Whatever works for you is right for you. Don't let anyone tell you how to feel about gender roles. If you want a traditional relationship, go for it. If you don't, that's great too. As long as you both agree, there's no right or wrong decision.