George Bush's Service Dog Paying Respects To His Human Is Making The Internet Weepy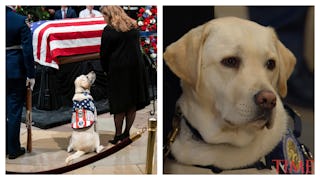 Image via Drew Angerer/Getty Images/Facebook/TIME
George Bush's service dog is breaking hearts all over the world
Last Friday, former President George H.W. Bush passed away at age 94. While the world remembered his legacy and condolences poured in for the patriarch's grieving family, his service dog, Sully, has captured the hearts of pretty much the entire internet. Staying by his master's side until the very end, cameras caught the very good boy looking extremely heartbroken today while visiting Bush.
Because we 100 percent don't deserve dogs.
If you can get through watching Sully looking like he lost his best friend (which he did, cool, time to sob again) without losing it, your heart may be actual stone. Whatever anyone thinks of Bush and his politics, no one can deny the sweetness of the relationship between a dog and his person. As Bush lay in state at the Capitol Rotunda, Sully was right there — and his sad face is wrecking us.
Dogs are too good and pure for this world. They will stay until the very end — and beyond. Look at him.
Although Sully is clearly The Very Best Boy, according to the American Kennel Club (AKC), it's not at all unusual for any dog to experience actual grief after losing their human. Jme Thomas, executive director at Motley Zoo Animal Rescue, tells the AKC that pups can show human signs of grief including weight loss, lack of energy, clinginess, or loss of interest in physical activities. "Dogs are highly intuitive and sensitive, more than people give them credit for," he says.
Anyone else overcome with an uncontrollable urge to rush Sully to the dog park for a good romp followed by a big plate of chicken and a nap in the nicest dog bed money can find? Just me? OK.
It seems the good and loyal pupper has been by Bush's side as much as possible in the days since his passing. A photo of him lying in front of the 41st president's casket went viral over the weekend when Bush and his late wife Barbara's post-White House spokesman Jim McGrath shared the heartbreaking image.
Sally Morgan, a holistic physical therapist for animals and humans, tells the AKC that canines need to be allowed to grieve a big loss — just like humans. "I have no doubt that dogs miss us as much as we miss them, and like us, they need time to heal from a deep emotional loss," she says.
People are basically heartbroken for Sully.
According to NBC News, Sully is scheduled to remain with the Bush family at least until the president is buried at the George Bush Presidential Library and Museum in College Station, Texas on Thursday. After that, it's on to his new mission helping veterans at Walter Reed, as confirmed by Bush's son, former President George W. Bush.
We hope Sully is an extra happy boy with his new humans and that helping them helps him too.
This article was originally published on