George Lucas Personally Spending $150 Mil to Build Affordable Housing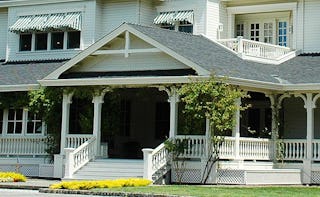 When that fell through, he proposed something else: a community for low-income residents, with subsidized housing and facilities. Again, he faced angry neighbors, who thought he was being vindictive and trying to lower their property values in retaliation.
Not so, said Lucas, but the project fell through anyway when his financial backers dropped out of the project.
So what's a billionaire to do? Finance it himself! He's now paying for the whole thing with his own money, of which he has plenty. The plans include 224 affordable housing units, with some set aside for seniors, as well as a pool, a community center, and an orchard. It's going to cost him somewhere in the $150-200 million range, but he's cool with that because, as he says, "We've got enough millionaires here. What we need is some houses for regular working people."
And he won't meet any opposition this time. The land is zoned for residential use, and he won't be relying on government subsidies, grants, or the financial kindness of strangers. The whole project is his responsibility.
I have to admit, it would be pretty cool to have a house on the George Lucas ranch; you'd give your kids bragging rights forever. And since he's going to be in charge of the design, it makes me wonder if he's going to take inspiration from some of his movies. Imagine living in a house that looked like the Millennium Falcon! How about the Galactic Senate? I think as long as he doesn't use Tatooine—the desolate planet where both Luke and Anakin grew up—as his model, it's a pretty sweet deal.
This article was originally published on