German Shepherd Hilariously Fails His Service Dog Training In Viral Video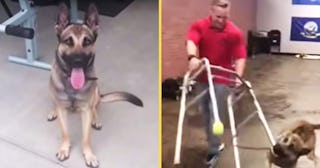 Double H Canine Training Academy/Youtube
This VERY good boy is not very good at being a service dog, unfortunately
Dogs are angels on earth in every discernible way. Some are great at being lifelong companions, others have talents in the service arena — as K9 police dogs, service dogs to those in need, etc. And some dogs have higher hopes and dreams than they're capable of achieving, but that doesn't make them any less Good. Take this guy, for example.
In a video that's quickly gone viral all over social media, a German Shepherd named Ryker can be seen trying so very hard to meet the standards of a service dog. But Ryker, like many of us out there of the human variety who can relate, falls short during his test. In every single way.
Please enjoy the funniest, most adorable animal video you will see all day.
OH. MY. GOD.
The complete demolishing of the wheelchair is one thing, the total meltdown over the trainer using a walker is just… oh, poor Ryker. You sweet, untrainable thing. He simply cannot be bothered with people in distress — there are balls to catch, y'all!
"Every dog has a purpose," the caption on the video read. "Clearly, Ryker's purpose is not to be a service dog." That may be true, but he's trying! He really is. He's just very excitable and easily distracted. Probably not great for service dogging, but definitely normal and good for regular dogging.
Bless the people at the Double H Canine Training Academy in Louisville, KY for sharing this boy with the world. Ryker here was an instant viral sensation, with many people applauding his efforts in spite of the (completely undesired) result.
Ryker's shenanigans have delighted people everywhere, young and old, dog lovers and non, because the video (set to Sinatra's "My Way" no less) is just that good.
https://twitter.com/jetpack/status/1232457564886929408
Others shared their own "Service Dog FAIL" stories, and they were pure gold.
https://twitter.com/jetpack/status/1232450725638049792
LOL. They're doing their best, okay?!
If you're interested in more daily activities of beloved Ryker while he resides at the training academy (of course you do, come on), please enjoy the following video posted on Ryker's behalf.
Let's hear it for all the good boys and girls who gave it their all and tried to be of service because their hearts were truly in it. Hopefully, those failures led them to forever homes with equally quirky humans who love them in spite of their failed career paths.
This article was originally published on