Get a Nintendo Wii U Now, and Get Your Kids Playing It
by Bill Murphy Jr.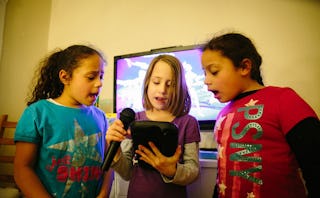 One of the investors in Uber—you know, that giant ride sharing company that is worth something like $41 billion—tells a story about the founder of the company and a Nintendo Wii.
This was a few years ago. The investor, Chris Sacca, invited the founder, Travis Kalanick, to his parents' house for the holidays. While he was there, Sacca's father challenged Kalanick to a game of Nintendo Wii tennis.
Kalanick accepted—and then started totally killing Sacca's father, just destroying him in the game. After a little while, he went into "full Princess Bride style," Sacca recalled. "He says, 'I'm playing with my opposite hand.' And so he switches the controller to the other hand. They start the match again and my dad doesn't score a single point."
It turns out that Kalanick—on top of starting a giant company—had dedicated himself to becoming one of the top Nintendo Wii tennis players in the world. He even scrolled to the settings page where Nintendo keeps the high scores, and pointed out that he was tied for second in the global rankings for Wii tennis.
We tell you this story in light of the fact that Nintendo made a big announcement this week, something that might encourage you to encourage your kids to get into Nintendo Wii.
As of this week, some classic Nintendo 64 and DS games—Super Mario 64 and Yoshi's Island DS, to be specific—will be available and work on the WiiU virtual console. According to Time:
The old-school titles will be available through the Wii U Virtual Console, essentially an emulator that lets gamers play old titles on the modern Wii U system. Previously, the Wii U Virtual Console only had games for the older NES and Super NES systems as well as the Game Boy Advance. The older Wii console had N64 games, and if you've already bought them there, you can port titles over to the Wii U for $2 as they become available, IGN notes.
So there you go. Dual reasons to give in when your kids want to play Wii U. They'll have a chance to appreciate the games we grew up with—and might even wind up billionaires.
This article was originally published on