For Her 36th Birthday, This Influencer Is Freezing Her Eggs
by Katie Cloyd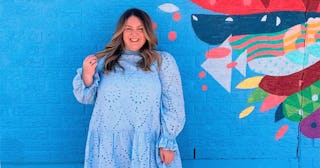 sassyconfetti/Instagram
Some people never have to think about their fertility. When the family-building part of your life operates seemingly on autopilot, it's easy to forget how complicated it can really be. For those of us who have to plan carefully and rely on science to have our families, fertility is something we think about a lot.
When you're not quite ready to have a baby, but you know you want to keep the option available for the future, your fertility truly takes center stage, and you have to make some intentional decisions about how you want to proceed.
Alex Stewart, fat-positive Chicago influencer, one of the hosts of the Swipefat podcast, and the star of Bspoke TV's Dating in the Modern Age, is freezing her eggs for her 36th birthday. That might not sound like the birthday gift of your dreams, but for Alex, nothing could be better than buying herself a little insurance policy for her fertility future.
She agreed to sit down with Scary Mommy to share her experience.
Alex never considered freezing her eggs until she was 35—but she wishes she had thought about it sooner.
"I wish my doctor had said something about [this option] sooner. I think doctors are conditioned to be like, 'Oh, you're 33, 34 in a few years you should consider freezing your eggs,'" Alex explains. "My doctor brought it up to me when I was probably 32, and told me I didn't need to think about it until I was 35. I was like, 'Oh okay cool.' But I wish someone had to me to at least get my fertility health checked. No one really knows what they're working with until they do that."
"When I turned thirty-five, I was starting to freak out," she admits. "I had very much worked on my personal life and my professional life, and finding a partner was not a priority. Having a family wasn't a priority. I was turning thirty-five, and I was like, 'Okay I at least need to figure out what I'm working with.' I took it upon myself to have my fertility health checked because I was getting anxious about it. My OB/GYN didn't suggest it," Alex says.
"The hard part is that as you get older, your egg health decreases. I got 15 eggs, but only 8 of them were mature and viable. But if I were younger, I probably could have gotten all 15. If I was 28 and did this, I probably could be set for anything down the line, if I wanted to have multiple children. Right now, I'm kind of set up to have maybe one. Your chances go up the more eggs you have, so I'm sure they're going to recommend another round. They want at least 22 eggs to have a chance at one live birth," Alex shares.
https://www.instagram.com/p/COHHG6PhwhI/
After fertility testing, it was an easy leap to egg-freezing.
Alex explains that when she sought out fertility testing, "I just wanted [the fertility test results] to be like, 'Oh you have a lot of eggs, you're good. Which is what they told me. 'You have a very healthy egg reserve. Things are looking great in there.' But nobody at that particular place was like, "You need to realize your egg health and quantity decreases the older you get."
After finding out that she was still in good shape, fertility wise, Alex decided that she'd like to put some of her eggs on reserve for later use.
"The place I started working with [to begin the freezing process] is the one that explained that in your thirties, things are not going to get better, they're only going to get worse and said 'You need to seriously consider [freezing your eggs] if [children] are something you seriously want for the future.'"
We actually had a sit-down conversation where they asked, "What is your goal for your own fertility? Is this something you absolutely want or not? Let's talk about it." No one did that before.
https://www.instagram.com/p/COiLgdghXdx/
The process was pretty simple, if not exactly easy.
"The first step is fertility health testing," Alex explains. "You go in and do an ultrasound and you do bloodwork, and they can figure out how many follicles you have in that cycle. Mine actually went down. In November, I had twenty follicles. I went back again when I decided to freeze my eggs in April, and I only had eight. That can depend on the month, but it can also change drastically at any time as you age."
"After testing, you meet with a nurse and doctor to talk about your plan and what they would recommend based on your fertility health. They put together a drug regimen and a calendar of how often you're going to inject yourself and how much of each drug you need," says Alex. "You go in every other day to have an ultrasound and bloodwork to make sure all the drugs are working and things are tracking. They have to figure out when to give you a shot to trigger ovulation. It's usually about a two-week process from injection to retrieval, then after that, you have a two-week recovery period."
"Retrieval was actually really easy. It took maybe 20 minutes at most. You do have to go under anesthesia, but I was in and out, and I found out how many eggs I got right away. At my clinic, they tell you how many are viable the next day."
https://www.instagram.com/p/CPEmRtIhWAh/
Recovery for Alex wasn't bad.
"I was bleeding a little right after the process, but that stopped pretty quickly. I started to feel more like myself after three days. You can't really do much until you get your period. No sex. No working out. Your ovaries swell so much (to the size of a plum from an almond) because they're trying to make more eggs come down, so if you twist them or jostle them, you can like, rupture them," she explains.
I cringe.
"Yeah, I know. You get so bloated it's insane. I sleep on my stomach. I would wake up, and I could feel my ovaries. It was so weird," she laughs.
But freezing your eggs isn't all easy-peasy. There are some hard parts, too.
Like the expense.
"It can be anywhere from like 8k to 15 or 20k depending on what drugs you need. I had to spend an additional two-thousand dollars I wasn't expecting because I needed more drugs than they originally thought," says Alex. For people who don't have that kind of cash, Alex let me know that companies like EmBorrow exist to help finance the cost of fertility treatments. She also reminded me that when it's time for her to use the eggs, that will require in-vitro fertilization, which will be an additional gigantic expense.
The meds can make some people feel very uncomfortable, but even if you tolerate them really well like Alex did, there is still some emotional fallout to deal with.
"I don't feel like the drugs made me more emotional, but the emotions that did come up were centered around existential stuff, which I was not expecting. I'm not sitting at home being like, 'Oh my god, I'm single. Oh my god, when am I going to have a baby? That's not something I'm usually thinking about, but with this you can't do anything else, and it's all you're thinking about. [Not having a partner to help with the injections and make me comfortable] made me very aware that I was alone and doing this by yourself," Alex shares.
I asked Dr. Mary Jane Minkin, OB/Gyn and clinical professor of obstetrics, gynecology and reproductive sciences at Yale University, her thoughts about egg freezing.
"Freezing eggs is certainly a viable option for folks. It is expensive, and it carries, of course, no guarantees. I feel terrible if a woman puts all her hopes into egg freezing, and then she says, 'OK let's use the frozen eggs,' and things don't work out. And we do know that fertility is reduced as we get older," she explains.
But that doesn't mean there's no hope! "I have delivered "oops" pregnancies for three 47-year-old women, so fertility isn't impossible, it is just diminished," according to Dr. Minkin.
For Alex Stewart, the reassurance of having her eggs preserved for later use is worth it to her, even if it isn't a total guarantee.
"This made me feel like I can take control of my future fertility in some small way. I think part of me would love to wait and try naturally with a partner if one comes around. Maybe when I'm forty I might decide that I want to do it by myself. You obviously have to have a village for that so it's something I'd need to think about," she says. "With fertility, you can't truly control the situation, but this at least gives me some control, and to know that I have a backup plan if I need it. The beauty of this is that I don't have to know my eventual plan because I have an insurance policy."
This article was originally published on