As A Single Mom, Getting My COVID-19 Vaccine Gave Me So Much Hope
by Leah Campbell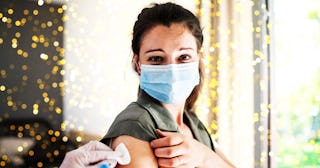 Scary Mommy, Halfpoint Images/Getty and MUNMUN SINGH/Unsplash
Like so many parents around the world, this last year has been one of the hardest I've ever experienced. And as a single mom to an immunocompromised child, the stress and fear I've felt in being cut off from my usual support system and tasked with keeping my daughter alive has been substantial.
I've basically had two overwhelming fears this last year:
That my daughter would get sick, and that her immunocompromised body wouldn't be able to fight COVID off.
That I would get sick, landing in the hospital (or worse, dying) and leaving my daughter alone.
I've always had an amazing support system of friends and family surrounding me. So amazing, in fact, that when I made my will, I couldn't select just one potential guardian for my daughter. So I chose several, counting on them to decide who might be the best fit to take her, should that time ever come.
But with this? What would happen to her if I ended up in the hospital because of COVID-19? My friends all have their own young kids and family members they are trying to keep safe. So would she end up in some sort of isolated medical care? With strangers or quarantined for weeks at a time, separated from her mommy and scared for my life every day that passed by?
The thought of that fate for my little girl scared me almost as much as the fear of her getting sick herself.
So when I was offered the chance to get vaccinated months ahead of my tier, I leapt at it.
My daughter is an Indigenous child and Indian Health Services (HIS) was given their own stockpile of vaccines to disburse. Up here in Alaska, that has gone very well—we've actually vaccinated more people per capita than any other state in the country, in large part because of how our IHS has handled their disbursements.
In late January of this year, after vaccinating all eligible and interested IHS members, our local Native hospital decided to open vaccinations up to non-Native family members living in the same household as IHS members.
I happened to be at the doctor with my daughter the day after this decision was made. I was given a link to register through and secured an appointment within hours of signing up.
It's important to understand I wasn't jumping any lines. IHS had their own vaccines to manage however they saw fit, and they saw this as one way to better protect and insulate their members. And because of my daughter's condition, her doctors were adamant I take the chance to get vaccinated while I could.
It was one more way to help keep her safe.
But when I walked in to get vaccinated, I was overwhelmed by how many people were there who, just like me, appeared to be getting their vaccinations much sooner than they had otherwise believed they would be able to.
The joy in line was palpable. A young girl behind me said something about how pumped she was, and the next thing I knew, we were both dancing and singing about vaccines.
While we waited in a room, seated in chairs spaced six feet apart, about 20 of us discussed how thankful we were to IHS for opening this opportunity up to us. Several other people in that room had family members they were trying to protect, just like me, and we were all filled with gratitude and relief.
I sat there, able to see the line of about 20 more outside, and realized I was in a space where everyone believed in science and taking proactive measures to help care for and protect others.
After a year of dealing with science deniers and people who acted like wearing a mask to keep others alive was an inconvenience, that simple realization was just about the most hopeful I've felt in a long time.
These were my people.
I'm now fully vaccinated (along with roughly 1 in 4 eligible adults in my state) and the relief I feel about that fact is undeniable. There's a light at the end of the tunnel. A return to normal on the horizon.
And a world full of people who still believe in science and looking out for the greater good.
Even if those who don't have been louder than some of us would have liked over this past year.
This article was originally published on